The Barwell Family. Ancestors of Louisa Lydia Willis née Barwell.
This webpage does not aim at perfection but is intended to help collect notes about old family members, and to assist people interested in this family to communicate and preserve their notes, photos and memories.
This is one of several such webpages full of genealogical notes. The index is
here
, and fellow researchers and relatives of these families are very welcome to
contact me
.
I would like to thank everyone who has helped and whose interests have encouraged this. In particular:

George Rossington's facebook group, inhabited by several fellow descendants of this family, was started at a time when this webpage, and all the ones split from it since, was just a section on the Willis webpage that was "stuck". The interest that came from those discussions helped inspire me to major breakthroughs. Louisa Lydia Barwell is now my "gateway" ancestor, the first one since I started genealogy whose family tree can be tracked back into the Middle Ages.

Amongst fellow Barwell researchers Lin Starke especially has been a constant help and encouragement.
Louisa Lydia Willis née Barwell is the paternal grandmother of my great grandmother Emily Jane Willis. This webpage is about her ancestry, which can be taken further than any other person in my family tree so far (as of 2014). For people who want to go straight to finding out how far it can be taken, you may prefer to jump to the two seperate "daughter" webpages which have been made by me about the ancestry of Louisa's "gateway" ancestors Dorothy Burlingham, Jonathan Wrench senior and his wife Anne Howard. (This webpage was getting too big.) Or, even simpler, have a look at one single example of a royal descent for Louisa.
Louisa Lydia Barwell married John Willis on 6 Oct 1859 at Belltrees near Scone, NSW (2903/1859). Belltrees is a large property on the upper Hunter River which still belongs to the White family, who many of my family worked for at various times. Louisa had arrived in Belltrees not much earlier, 3 Mar 1859 on the Hornet having left Plymouth in 1858. In the marriage record she was described as a nurse, who was 21 years old, apparently also working at Belltrees. We know from records in Australia including the shipping records themselves that she had lived in East London near the docks. Her father Thomas was a sea faring man, and her mother was Lydia née Lewis.
(A quick note to readers of previous versions: the photo of Louisa has been removed because it appears it is another Louisa from the extended family in New Zealand.)
John Willis died relatively young in a carting accident at Uralla, 31 December 1890, and is buried in Armidale. Newspapers report the accident happening December 1889, John being thrown from a spring cart when returning from the races on Thursday 26 December. His Willis ancestry is discussed on another webpage.
Louisa continued to live in Uralla into the 20th century. Louisa Lydia Willis died 14 June 1923 in Armidale Hospital (6357/1923), and was buried two days later. Although the registration mentions the wrong father, Samuel, such errors are certainly common on the death certificates of elderly immigrants of this generation. As I shall show, Samuel was however a name used in her family. Indeed she gave this name to one of her sons. The certificate also described her sea-faring father as a "steward" by profession, but this matches a similar "error" made on her brother George's death certificate in New Zealand, and probably referred to a job he really had at one point, working in the city for London University (or possibly the fact that he was apparently a cook on board ships later in life). Louisa's son John Willis seems to be the one who reported the information at her death, and correctly named her mother's surname as Lewis, along with various other details such as all her correct children with their ages. (They are listed on the Willis webpage.)
In March 2008, I was contacted from Melbourne concerning this webpage, by Lin Starke, who comes from a New Zealand family of Barwells who knew themselves to be related to a Louisa Barwell who'd gone to Australia instead of New Zealand, and married a man named Willis. She descends from Louisa's brother George, who had been a cigar maker in London. While still in London, George married Annie Jane Lambert Moore, the daughter of a wine dealer, Frederick Moore. The marriage happened 7 March 1858. They came to New Zealand the following year on the Zealandia. George became a farmer at Loburn, North Canterbury. The fact that his wife's family was in the wine trade might turn out not to be a coincidence, as will be explained.
Other siblings who came to New Zealand were Samuel and Susan, who I had not been aware of before. Susan emigrated together with George and his wife.
Samuel Barwell came out separately, but on the same boat as his future wife, Dinah Jones, the Maori. They married on the 27th September 1859 in the house of the Rev. Charles Fraser in Christchurch. Samuel's second wife Ann Davidson died on 23 Mar 1917, and was buried at the Linwood Cemetery. Samuel himself passed away, cause of death senile decay, on 29 Jan 1918, his address at that time being 368 Oxford St., Christchurch. To quote information I received from Lin:
In an interview with the "Lyttleton Times", 6 May 1914, Mr. Samuel Barwell said he was born in London in 1832, and joined the British Army at age 16 yrs, went through the Hottentot, and Kaffir Wars in 1851-2-3, and went to Crimea and the war against Russia and Turkey. He was involved in the "Charge of the Light Brigade", in which, due to the bungling by the British war strategy experts, hundreds of British soldiers were trapped and slaughtered in the valley dominated by entrenched opposing troops. After the initial onslaught the Turks roamed the battlefield, bayonetting any soldier showing any signs of life, and here Samuel survived by feigning death on the ground. His medal for Crimea was later decorated with clasps for the Battles of Inkerman, Balaclava and Alma. (End of Interview). He was also one of the storming troops at Sebastapol. He also held the South African Medal for the 1850 war. (Hisson was to lose his life in the Boer War in South Africa, 1899-1901). At a military function in N.Z. in 1914 Samuel said to Sir Ian Hamilton, that earlier in his career he was once "Inspected" by the Duke of Wellington, the British soldier who defeated Napolean Bonaparte .Samuel was one of the best shots in No.2.Coy, Cant'y Rifle Volunteers in 1861. He drilled the first volunteers, in the Market Hall Christchurch. They used to go into North Hagley Park with the Brunswick Rifles.
Charles Barwell (one of his grandsons), had a soft black velvet smoking cap of Samuel's, and also a photo of his war medals. Another photo, taken of Samuel in 1907, showed him in uniform, with the rank of Sergeant-Major, with three medals of the Crimea campaign.
The photo reproduced here of Louisa is from New Zealand, none having survived in Australia that I know of. So it is clear that some contact was kept between Louisa and her older brothers and younger sister there, and her son John presumably knew of this, as he lived in the area. This possibly explains why the death registration for Louisa in Armidale in 1923, apparently mentions Samuel as the father's name.
Susan was married at the same house as her brother Samuel, to Robert Taylor, 18th February 1861. Samuel and Dinah were witnesses. She was 20 years old and a domestic servant at the time.
Thomas and Lydia, Louisa's parents
Thomas and Lydia married 14 Aug 1823 in St Dunstan, Stepney. Harriot Barwell was a witness, and the other witness seems to have Price or Brice as a surname, but is a witness who apparently appeared reasonably often in that register.
Due to the contact from Lin Starke, I learned that the New Zealand Barwells believed Thomas to have been in the navy. We found that Thomas Barwell, born in 1797 in Norfolk, does appear in Merchant Navy records (not quite the navy as such). These documents can be seen on the findmypast website. Document BT112, shows Thomas as a cook on a voyage in 1843. BT113, Register Ticket 344.710, shows him born Yarmouth, Norfolk 28 Feb, 1797, and ticketed at the age of 49. It was issued at London 26 June 1846. He was a seaman, described as 5 foot 7 inches, fresh complexion, dark grey hair, blue eyes, with a scar on his left leg. He could write. He first went to sea as "app" (I presume apprentice) in 1810, and had never served in the Royal Navy or Foreign Service. When unemployed he resided at Cominerval? Road. The record seems to indicate that in 1845, 1846, and 1847, Thomas served as a cook on 3 voyages, the first and last seem to have been longer than a year, but in 1846 he completed a voyage between ending and starting the other two in the same year. Records in series BT116 of 1853-57 seems to also list Thomas as having left on at least one voyage in 1853 and returned in 1856. So it appears that Thomas was a sailor as a teenager, and then later worked as a cook in the merchant navy.
Concerning his occupation in the time in between, on his son George's death certificate in New Zealand, just as on his daughter Louisa's in Australia, Thomas was described not as a mariner (as he is also described in other documents involving his children) but as a "steward". It should perhaps be noted though, that George's death certificate got the name of George's mother wrong, calling her Charlotte, and Louisa's got the name of Thomas himself wrong, calling him Samuel!
The children that have been traced are as follows, and it will be seen that during the period they were being born Thomas and his family moved deeper into the growing city, and Thomas did indeed work as a type of steward, at London's new University:
Richard Thomas Barwell

. Born 17 May 1824 and baptised 22 August 1824, in St George, Middlesex. Lin reports that he died 31 Dec 1825 in Tower Hamlets. At his baptism, Thomas the father is called a Mariner, and a resident of James Street.

William Barwell

was born 1 May 1827 and baptised some years later, 21 Nov 1830, Old Church, St Pancras, London (so not in East London, nor near any docks). It is not known what happened to him, but a 22 year old clerk named William Barwell sailed out of London to New York on the

Northumberland

in 1849.

George Barwell

(ancestor of Lin's NZ Barwells) was born 10 Sep 1830, once again at St Pancras, London and baptised together with William 21 Nov 1830, Old Church, St Pancras. He died 3 Feb 1911 in Christchurch, Canterbury, New Zealand. At their baptism, their father Thomas is referred to as a Porter at London University, which would officially become a chartered University in 1836. And he was resident at Southampton Mews, St Pancras.

Samuel Barwell

was born (according to Lin) 15 October 1832 in Whitechapel, Middlesex, and died 29 January 1918 in Christchurch NZ. He also had a family in NZ. His military career is discussed above already.

Mary Barwell

was born 1835. She appears as a 6 year old in the 1841 census in Tower Hamlet. She is probably the same as Mary Ann Barwell who was a member of this family according to Lin, and was born about 1834, married

Thomas Swales

, and died July 1912 in Islington. If so, then the 1881 census says she was born in St Pancras (which fits).

Frances Barwell

was born 29 Sep 1836, and baptised 23 Oct 1836, Trinity, St Marylebone, London. At her baptism, her father is described as a Beadle at London University, and a resident of 20 Cirencester Place. (This street is today simply the northern end of Great Titchfield Street, so once again near Euston Road.)

Louisa Lydia Barwell

was born 29 Apr 1838, and according to the 1851 census this took place in the parish of St George in the East, London - so back on in East London near the docks. But she was baptised back in the city, 21 May 1838 at Trinity, St. Marylebone. I believe that "Lucinda" who appears in the family in the 1841 census, is a mis-hearing of Louisa Lydia.

Susan Harriot Barwell

was born in the 2nd quarter of 1840 in St George in the East, London (2/89), and died 2 Feb 1889 in Geraline, New Zealand. She married Robert John Taylor.
In the 1841 census, after the children were all born, Thomas Barwell, seaman, was 45 years old, so born about 1796. He was at Marman St, The Tower Hamlets, St George, (eclessiastical parish of St Mary's). There is also a family living with them with the surname Avard: Mary (61, independent), Martha (30 Dry Trimmer), Sarah (30 ditto), Charlotte (15). Everyone is born in county except Thomas. The Barwells in that census were as follows...
Lydia 45
William 13
George 9
Samuel 8
Mary 6
Lucinda 3 (probably our Louisa Lydia)
In 1851 Lydia is 50, and born in Whitechapel, and alone with some of the children. She is described as a Mariner's wife, and was living in St George in the East, "Tower Hamlet". Perhaps Thomas was at sea, but where were the other children? Samuel may have already joined the armed forces. There is an 18 year old in Kent with the 91st rifles. The family address was 27 Spencer Street. The children with Lydia were...
George 20, cigar maker, born St Pancras.
Louisa 11, scholar, born St George in the East.
In 1861 Thomas was 65, so born about 1796; born "City of Norwich, Norfolk". He was once again a Seaman. Lydia was 61, born Whitechapel. The children were gone by now, but the residence of Thomas and Lydia was still in St George in the East, 27 Spencer Street, noted as "Spencer St North" but now with several distinct other families living at the same address.

Thomas's death is registration 440 in 1c/305. He died 14 August 1865, a resident of 59 Spencer St, St George in the East. He was a 68 year old with occupation "Seaman Merchant Service". He died at home with Lydia present, who was informant to the registering authority the next day.
It appears Lydia re-married to a widower Robert Taylor, 24 July 1866 in Stepney. Robert was described as a gentleman and a widower. Lydia Barwell is also marked as a widow and both are simply "of full age". Lin explained to me how this actually resulted from a link in New Zealand. "Susan Barwell married Robert Taylor in Christchurch. Later her widowed mother Lydia Barwell nee Lewis living in London met up with Robert's father now widower and these two married." The marriage certificate gives fathers' names, Henry Taylor for Robert, and William Lewis for Lydia. As we will see below, this matches what we can reconstruct.
Lin notes Lydia Taylor's death registration appearing to be April quarter 1885 in London. This is still not confirmed.
The electoral rolls name various Barwells who met the qualifications in London during the 19th century. A Thomas Barwell appear in 1858, 1864, and 1865, with a property at 303 Oxford St in Westminster. As this was his house I do not think this can be our Thomas. More relevant are the entries for Samuel, which name him at Wrights Building Salmon Lane in 1851, 1852, 1853 and 1854. He will be discussed below. A bit earlier, but also in Tower Hamlets, there are a John and then a Charles Barwell, both on Bethnal Green Road.
The origins of Louisa's parents
To start with the parent whose origins we know least well, that of Lydia Lewis, we can find a suitable looking baptism for a Lydia Lewis in Whitechapel, along with some potential siblings and a marriage for the parents, with the father's name conveniently matching the one at Lydia's second marriage (which we discovered much later than the baptism):
William Lewis (bachelor of the parish) and Mary Offley (spinster of the parish) married 1 April 1799 St Mary's, Whitechapel.
And these are some of the baptisms from this parish, where the parents were named William and Mary Lewis:

?Thomas Lewis was baptised 4 May 1796 St Mary Whitechapel, Stepney (of Church Lane)
?George Lewis was baptised 7 Sep 1798 St Mary Whitechapel, Stepney (of George Yard)

Lydia Lewis was baptised 25 Jul 1800 St Mary Whitechapel, Stepney. (The register says William and Mary lived at Buckle Street)

Henry Lewis was baptised 20 Aug 1802 St Mary Whitechapel, Stepney. (Again, Buckle Street)

Richard Lewis was baptised 22 Jul 1804 St Mary Whitechapel, Stepney (Buckle Street)

?John Lewis was baptised 12 Apr 1807 St Mary Whitechapel, Stepney (Roadside, born Dec 21 1806)
It needs to be mentioned that there are Lewis baptisms before and after the above ones, with William and Mary as parents. Furthermore there are many William and Mary Lewis couples in the area, although not all married in the same parish. It is very hard to be sure which are in the same family. Tracking a common surname like Lewis in London is difficult, and we need a lead. The surnames Offley (Lydia's apparent mother's surname) and Avard (the family living with the Barwells in 1841) are at least unusual! Looking at these:
The Avards.
17 May 1807 there is a baptism for Martha Avard, daughter of Daniel and Mary, in St Botolph Without Aldgate.
30 Apr 1809 there is a baptism for Sarah Avard, daughter of Daniel and Mary, also in St Botolph Without Aldgate.
23 May 1813 there is a baptism for Charlotte Avard, daughter of Daniel and Mary, also in St Botolph Without Aldgate.
So of course we look for Daniel and Mary's marriage: Daniel Avard and Mary Moody married September 1804 in Hackney St John.
The name Mary Offley is more common than expected outside London, in the West Midlands, but no records beckon for further inspection yet.
On the other hand, the census entry for Thomas Barwell sends us to a smaller city, Norwich, concerning which I have received help from Norwich researcher Gill Blanchard. The evidence will be explained which makes it clear that these are his parents:
Marriage Licence Bonds, Archdeaconry of Norwich, 1791
William BARWELL of Saint Giles Norwich Wine Cooper and John FOX of Saint Andrew in the said City Plumber and Glazier bound £200 twelfth October 1791
William BARWELL of Saint Andrew a Bachelor and Ann BARNES Spinster both of full age
William BARWELL and John FOX both signed. (John Fox was therefore binding himself to a £200 bond.)

Norwich St. Andrew Parish, Norwich, 1791:
P.50. No.149. William BARWELL of Saint Giles in this City Batchelor and Ann BARNES of this Parish Spinster by Licence thirteenth October 1791. Both signed. Witnesses: Elizabeth FOX. Frances REEVE. John FOX. Mary BARNES.

To avoid confusion and false leads, I will note that in a Familysearch index for Catfield, I07525-5, which is well outside Norwich itself, this marriage appears. Familysearch now have original scans online for the Catfield parish banns register, parish marriage register, and older multi-purpose register, archdeacon's transcripts, and bishop's transcripts. I do not find the wedding of William Barwell and Ann Barnes in any of them so far. Familysearch does have big blocks of indexing errors, and this appears to be one. It appears all or some of these Catfield marriages were really in Norwich.
The marriage was apparently important enough to mention in the paper. The Norfolk Chronicle mentioned it Saturday 15 October 1791: "On Thursday last was married, Mr. Barwell, wine merchant, of this city, to Miss Barnes, of St. Andrew's." The announcement was also carried in the Stamford Mercury. Note that in these announcements William is called "Mister" Barwell, which was important in those times, and he was not referred to as a cooper but as a merchant.
Looking at the witnesses for leads:
Frances could be a woman but it could also be Francis Reeve of Ditchingham who married Mary Howes 25 Oct 1791 in Kirby Cane (the same month)? And/or he could be the one having children with his wife Mary Coleman in Winfarthing in the 1770s, which was near where William maybe came from. Note below how a Roger REEVES witnessed the marriage which we think might be the father of this William.
Elizabeth and John Fox. Both of these are common names in Norfolk, but specific Foxes can also be found in this register and others related to other leads we have. There were for example Foxes in the Tivetshall area, which we will discuss below. However the best lead is that John Fox's job description is given. The National Archives hold a PCC will PROB 11/1577/282 for John Fox, Plumber and Glazier of Norwich , Norfolk. It was made 20 July 1812 and proved 16 February 1816. Unfortunately it does not mention any Barwells, but at least we can that he was a resident of St Andrew, and that he must correspond to the burial there of 15 Dec 1815, the record of which mentions that he was 70, so born about 1740. His wife's name was Mary, he had children named Elizabeth and William, and his son and heir was another John, who was going to take over the business. So it appears John junior's will is the Norfolk will for "Fox, John, plumber and glazier, of Norwich" 1818 (NCC will register Eley 27), which must equate to the next burial in St Andrew Norwich, 16 Sep 1817, where the age was 50, so born about 1767. Probably he is the John Fox baptised in St Andrew 1 Feb 1767, to a couple named John and Mary.
Here are the children of William and Ann, easily identifiable (despite the family being mobile between parishes) because luckily even the mother's maiden name was often being noted in the baptimal registers:
1792. William Barwell. (Barwole in one transcription I've seen.) Son of William and Ann Barwell was born 24 August 1792 and baptised 27 August 1792, Saint Peter Mancroft, Norwich. Buried soon after in Norwich St Andrew 19 Oct 1792, with both parents and mother's maiden name given.
1793.

Mary Ann

Barwell

. Daughter of William & Ann Barwell (late Ann Barnes Spinster) was born September 11th, and baptised September 13th, Norwich St. Giles. We have not traced her, but she was probably alive in 1816 when "two daughters of Ann Barwell" are mentioned in a will we shall discuss below, of Mary Flacke of Hindolveston.
1796.

William Barwell.

Son of William & Ann Barwell (late Barnes Spinster) was born April 15th, and baptized April 17th in Norwich St. Giles. In the 1841 census there is a William BARDWELL, baker, 50 years old in Norwich. There is also a 55 year "stone sawyer" in Cornelius Place, St Pancras with a 45 year old Mary Barwell, both not born in county. (I think this William was buried 1844.) But we have not traced him convincingly, and he may also have died young.
1798.

Thomas Barwell

"Son of William & Ann his Wife late Barnes Spinster Born Feb: ye Second". So born 2nd February and baptised March 4th at Norwich St. George Colegate (page 17 of familysearch scan). Note that the merchant navy record discussed above gives a very similar 28 February birth day, but in 1797, and it places this in Yarmouth, where the two younger children were baptised. In effect I believe those records confirm that we have the right one.
1801.

Samuel Flack Barwell

, son of William and Ann Barnes. Baptised 11 August, St Nicholas Great Yarmouth. Samuel Flack Barwell, with the unusual middle name clear, had his children baptised in the same east London docklands area as Thomas and was also a mariner. Samuel also appears in merchant marine records, in series BT112, of the years 1835-40, he is shown as 35 years old and having been on two voyages (before having his children in his case): 18/9/36, Carshalton Park 64/1251 and, 3/9/37, Carshalton Park 64/3485. His wife's name was

Ann Sophia Parsley

and they married 23 Sep 1833, Limehouse St Anne. Samuel died in Stepney in the

second quarter of 1859 (1c/302)

. A will is registered for effects under 100 pounds. It says he was a Master Mariner, who died 16 April 1859. He lived at "Wight's Buildings" and his widow Ann Sophia was executor. Children:
Samuel Henry Barwell, bapt. 14 Oct 1840 at Limehouse St Anne.
Jane Argent Barwell, bapt. 4 Jan 1844 at Limehouse St Anne.
William Thomas Barwell, bapt. 11 Jan 1846 at Limehouse St Anne.
Ann Harriet Barwell, bapt. 9 May 1847 at Limehouse St Anne.
Sarah Ann Barwell, bapt.14 Jul 1850 at Limehouse St Anne.
Alfred Edward Barwell, bapt.31 Aug 1851 at Limehouse St Anne.
1803.

Harriot Barwell

. Also born to a William and Ann (née Barns) in Norfolk, was baptised 30 Apr 1803 in St Nicholas Great Yarmouth (birth 27 April). (Somewhere I have seen a database claim that this also appears in the register of Earsdon By North Shields, Northumberland, a far away port. I have looked for it but believe this must have been an indexing error.) Harriet seems to have been a witness at Thomas's marriage in 1823 in East London. She married a few years later 11 Nov 1827, St Giles in the Fields, to

John Hadrell

. The reason we can be confident of that is by tracing her birthplace on later censuses. In 1841 John is a victualler in Bush Lane, St Swithin. In 1851 he is a coroners officer in St Pancras. I think Harriet's death certificate must be the one in St Pancras

3rd qtr 1858 1b/21

. Their children (from censuses):
Eliza Hadrell born about 1829 in Middlesex.
Henry Hadrell, born about 1831 in Middlesex.
Sarah Ann Hadrell born about 1834 in Middlesex.
Thomas Hadrell born about 1837/8 in Middlesex
Harriet Hadrell born about 1839 in Middlesex.
Samuel Hadrell born about 1843 in Middlesex.
Before leaving Norwich, William appears in another record I found, as shall be discussed in more detail below, by tracking the unusual Flack middle name. After the death of Anne Barnes' great aunt,

Eleanor Flacke

, an "admon" document was made 25 February document and one of the guarantors of the bond was "

William Barwell of the City of Norwich Wine Cooper

". Another was "

Francis Smith of the said city Cooper

". Francis Smith, might eventually be important for tracing William's life, because except for a brief period around 1800-1804 we have no record for William Barwell as self-employed or someone eligible to vote, and he may have been working for an older cooper such as Francis Smith or John Barwell, who we will discuss below. 29 March 1768, Francis Smith was taken as apprentice wine cooper by John Cock in Norwich. 10 November 1783 this Francis took on an apprentice Henry Nutthall in Norwich. He appears as a Cooper in Elector rolls for Norwich St Julian in 1784, and St Stephen in 1796, 1797, 1799, 1802, 1806, 1807 and 1812. In 1817, there is clear no mention of him. (There is only in that year a Francis Smith "gentleman" in Yarmouth.) In 1818 there is a Francis Smith, cooper, in St Stephens again. In 1830, the St Stephens list has Francis Smith junior, a wine cooper. His will is Smith, Francis, wine cooper, of Norwich, 1832, NCC will register Cooke 191. There is also a burial 10 Feb 1832 for a Francis Smith, a 78 year old widower of St Stephens, buried in St Ethelredra parish. (The wills index helps us confirm that there were several contemporary Francis Smiths in Wells, Blo Norton, and Fakenham.)


When we first find him, William was a wine cooper by trade and a wine merchant in Norwich. Norfolk record Y/C 19/40, 177 is a "Petition of William Barwell wine merchant for lease of ground 50 yds square on the Denes east of that lately granted to John Turner, with leave to enclose for the purpose of cooperage, 1 Sep 1800 (rejected)." I can add that the archival copy actually calls him a wine cooper. As we will see below, William and Anne probably inherited a bit of money around 1800, from Ann's mother's family, and this may have played a role in decisions to take some risks.

As we can also see from the baptisms, by 1801, not long after this rejection, William and Anne moved city and William indeed appears as a freehold owner in the next Great Yarmouth lists of electors, listed as a "liquor merchant". Yarmouth was effectively a port city of Norwich, and a growing commercial centre in its own right. Possibly William found Norwich with its guilds difficult to break into, but presumably he was also getting more involved in shipping of liquor. This was a complex undertaking no doubt, because the main supply of popular products came by ship from places like France and Spain, which were at this time under the grip of Napoleon. It is known that there was a lot of brandy smuggling going on in the Yarmouth area, and I suppose we should wonder whether this was a good or bad thing for the business of a legitimate brandy trader.

In December 1803 notices begin appearing in the newspapers around England concerning the bankruptcy of William Barwell of Yarmouth, "Brandy Merchant". The official versions are in the London Gazette:
10 December 1803. A Commission of Bankrupt being awarded and issued against William Barwell, he was to surrender himself to the commissioners on the 3rd, 4th, and 24th of January, at 3:00pm, at the house of Charles Johnson known as the Kings Head, and make a full discovery and disclosure of his estate and effects. On the first appointment the creditors should come and prove their debts. On the second they should choose assignees. On the third they should assent or dissent to the certificate of bankruptcy. No one should pay anything directly, unless the commissioners assign it, and they should give notice to Mr Whitaker, solicitor, Broad Court, Long Acre, London.
25 August 1804. The commissioners of the Commission of Bankrupt dated 5th December 1803 intend to meet at 5:00pm on Thursday 20th September at the Kings Head, in order to make a dividend of the estate and effects of William Barwell. Any creditors who have not already proved their debts should be there or they will be excluded from any divident and any later claims will be disallowed.
15 September 1804, The commissioners change the date. It will now be Thursday the 25th Day of October next, at Four of the Clock.
I am not aware of any clear or convincing records concerning William or Ann after these in 1804, except if we count the mention of two daughters of Ann in an 1816 will discussed below. There is a burial record for a William Barwell in Great Yarmouth, 12 Jul 1807, but transciptions online mention parents names (but damaged), which was usual only for children's deaths. If the transcription is of the burial at St Nicholas at that date then the scan on familysearch shows that the surname is Barnell, and it was a 2 year old boy.
A history of Methodism in the town and neighbourhood of Great Yarmouth, published in 1826 by Abraham Watmough, writes about "Mr Barwell, now living at Gorleston", who he says was a "local preacher" who had been a sergeant in the Cambridgeshire militia. Was he local in the sense of coming from the area originally, rather than Cambridgeshire? The book at least sometimes seems to use the term "local preacher" to mean resident in contrast with travelling ones, which were important to the way methodist "circuits" worked. This Mr Barwell is listed as such a "local preacher" for 1823, and as leader of the Gorleston circuit in 1824. I have to say, on the other hand, that coming from a family with a strong connection to the liquor business in a smuggling town seems an interesting start to a methodist lay preaching role. I have my doubts about this lead. Another thing that does not score in its favour is that another account of the same man, by Charles John Palmer, says that this militia were in Yarmouth in 1801. William could not have been a serjeant then, as he was still in business.
In any case, Great Yarmouth was a suitable place for our Thomas and his brother Samuel to become sailors, but we know that by 1823, the only family members we have traced so far had started to appear in East London, which possibly indicates that the whole family had moved. Indeed we know from his Merchant Navy records that Thomas was working on a boat in 1810, at the age of about 12.
An area of investigation for trying to track the Barwells after 1804 is to try to find more relatives. I have found Ann's family, and there is one more great aunt not accounted for yet, who must have died after 1816, Anne, who appears to have married three times. She will be discussed more below.
Things apparently did not all work out as well for William as they did for his contemporary in the Norwich wine and spirits trade, who happened to have the same surname: John Barwell...
Who were the Barwells?
It has been very difficult to get any conclusive proof about the origins of William. On the other hand, it has felt like we are close for many years. The Barwell surname (unlike Barnes, but like Flack) is actually not common in Norfolk, at least not with this spelling, and that helps. An hypothesis with obvious attractions was developed with the help of Gill Blanchard in 2006 already, and this is what will be explained in its most recent form in this section.

As it happens, during this exact period a Barwell family became increasingly involved in the wine trade in Norwich. They became quite wealthy in the 1800s. A version of the firm they ran, having originally been in partnership under a family named Suffield in St Giles Street, still exists under the name Hayman Jones Barwell. See http://norridge.me.uk/pubs/names_/firms/barw.htm. It is fairly easy to find more information about the later generations of this family on the internet. On this webpage we shall focus upon their probable common ancestry with my Barwell family, because by looking at all the Barwells of Norfolk we can hope to eliminate some options, and home in on others.

Some years after the bankruptcy of William Barwell in 1803, in 19 February 1806, an Archdeaconry of Norwich (ANW) will was made by

John Barwell, a merchant in Norwich

. He was about a generation older than our William. It was executed in 1808, after this John Barwell died in 1807. (There is also an abstract in Kew IR 26/394/225 which wrongly calls him Jonathan.) He left a trust which, if he had no child who lived to 21, should be divided in three and given to "so many of the Children of my

late deceased Brother William Barwell

as shall be living at the time of my death", "so many of the Children of my

late deceased Brother Joseph Barwell

as shall be living at the Time of my decease" and "so many of the Children of my

Brother Robert Barwell

as shall be living at the time of my decease". There is an implication that John thinks all three brothers are at least likely to have children. Note also that only Robertmust still be alive in 1806.

This John is the same one who appears in numerous newpaper mentions starting in the 1780s. In some of the first records we find of him John is referred to as a wine cooper of Norwich, the same trade as William Barwell. As a wine cooper he took on an apprentice named Miles Cole in 23 Jan 1776, and also as a wine cooper he married Hannah Wright in 1768. In the 1784 Baileys British Directory, he is at Wymer Street, Norwich, as "cooper, wood/furniture/carriage trades(m), wine". In 1786, 1787, and 1790 lists of people eligible to vote, John Barwell is in St Peter Hungate, Norwich, and a Wine Cooper. The 1786 and 1787 lists also specify he is a freeholder, and the 1787 list has him listed under St Peter Hungate but with "St Step.", so maybe his residence was in St Stephen? In 1794, 1796, 1799, 1802, and 1806, John Barwell is wine merchant, and freeholder in St Stephen Norwich.

John Barwell's third wife Harriot, mentioned in the will, is Harriot Sedley. And his son also named John went on to marry Louisa Mary Bacon, an author and educationalist, who wrote about childrens' and musical themes, including a version of "Tom Thumb", the The Novel Adventures of Tom Thumb the Great, published in 1840.

Gill also found the following citation, by the great Norwich historian Walter Rye, which has been a helpful lead over the years:

Rye's Norfolk Families, 1913 – Barwell

BARWELL of Norwich
This family considers itself descended from the family of BARDWELL or BEARDWELL of West Harling; who bore Gu. a goat salient arg. attired or. but no evidence has ever been adduced of the descent.
John BARDWELL, grocer and John BARDWELL, cook, probably father and son, were admitted to the freedom of Norwich, 8 and 26 Elizabeth.[approx 1566 and 1584]

John BARWELL, s of William BARWELL of Tivetshall, and grandson of another William BARWELL of the same place, buried there 1737; was b about 1741, was of Norwich and Fundenhall. In 1786 he voted as a wine cooper in St. Peter Hungate, and 1791 was a Roman Catholic wine merchant there. By his third wife Harriet, d of John Somner SEDLEY of Morley, Norfolk (by female descent from John SEDLEY, Esq., of Barford and Morley, High Sheriff, 1657-8) he had a son.
John BARWELL (Sheriff in 1839) who by Louise (d. of Richard Mackenzie BACON, printer, newspaper proprietor. and author. who d. 1885, having been the author of many children's books) had a large family including
John BARWELL, wine merchant (now living), and Miss BARWELL of Surrey Street, Norwich, and a brother, an artist
Arms used are those of BARDWELL – Gu. a goat salient arg. attired or.
In Lieut.-Colenel HARVEY'S recently published book on "Norfolk Deer Hunting" (p. 17) a reference is made to a Thomas BARDWELL, an artist, who painted the Woodton Hunt, and is supposed to have been a connection of Thomas BARDWELL, the butler at Woodton, who died there in 1719 aged 96.

(To save difficulties for those who attempt to talk about these places to anyone from Norfolk, I should mention that places in Norwich often have non-obvious pronunciations. It is fairly well-known that Norwich is as if Norrich, but also Tivetshall can apparently sometimes be as if Titsal, and Tacolneston is as if Tackleston. I am not yet sure about Fundenhall!)

It is interesting that at least some members of John Barwell's family were Catholic, something which was unusual amongst native-born English families at the time. But there were some well-known exceptions in Norfolk such as the Howards, Bedingfelds and Jerminghams. Having less famous Catholics in the family tree can bring difficulties to researchers, depending upon whether they had their children baptised in the Church of England or not. Nevertheless, a family tree seems possible to reconstruct with reasonable confidence, for this family described by Rye, adding in extra evidence from primary sources such as parish registers, newspapers, and wills.

Gill Blanchard found some useful references to Catholic Barwells in a work by Frank Devaney, late honorary archivist for the Roman Catholic Church in Norfolk, who published a book called The Faithful Few: A History of Norfolk Roman Catholics 1559-1778, of which there is a copy in the Norfolk Records Office. I will mention it where relevant below, but the most interesting information comes from reports to the House of Lords about Catholics, which was made in 1767.


Below, is a proposed draft tree. It shows how I think that our William was probably John's nephew. But the aim of this summary is not to claim that it is proven, but to stand as notes for the work ahead...




To start

, according to Rye, quoted above, we can name a

William Barwell

who was buried 1737 in Tivetshall, and indeed there is such an entry in the Tivetshall register. The Boyds marriage index suggests to us that he married to

Anne Asten

in 1702 in Pulham St Mary. It is possible that this is the same William and Anne, where William was a worsted weaver, who had two daughters baptised in nearby Wacton, as showing on FreeREG:

Elizabeth

baptised 19 Jun 1706, and

Susanna

1 Aug 1703. (Note. I have been able to see the scans of the register and I do not see any mention of profession, but for Norfolk there were commonly 3 sets of register records, which often differ in details.) I will note below that we have evidence that there was another sister named

Battina

, who married

Jeremiah Punchard

in 1734 in or near Bury St Edmund.

I can add from Devaney's reports of 1767 information on papists that there was William Barwell, farmer, who was a 52 year old farmer (so born about 1715) living in St Ethelred parish in Norwich, along with his 23 year old son named Robert (so born about 1744), also a farmer. Our William also had a son named Robert. It must be said that he must have been older than 23 in 1767, and William would have been older than 52, but every age I can cross check seems consistently inaccurate and on the young side.

Marriage. William Barwell and Mary Gibson married in Pulham St. Mary the Virgin in 1730. (This was also discovered with the Boyds Marriage Index. The parish register has BARSWELL according to the transcription on the FreeREG website.) Mary is possibly the 70 year old widow buried at Norwich St Giles 28 Feb 1773, which means she would have been born about 1703. Looking for a burial for William who married Mary Gibson, there is one recorded in Tacolneston, 19 Aug 1746, but his surname was spelled Bardwell with a "d" and he was referred to as "junior". I am tempted to think this is another family, perhaps distantly related. There are several Bardwell burials in that register in that year, all with a "d" and not apparently fitting in this tree.

Notes for further study about the origins of this family:
A document at Kew, C 11/2184/4 "Barwell v Hempson", of 1737, is a lead to the ancestry of Mary Gibson, and possibly of the Barwells. It concerns a case brought by "

William Barwell, yeoman of Pullham, Norfolk and Mary Barwell his wife

and

Sarah Gibson

, spinster of Finborough, Suffolk (said oratrixes are executrixes of

Elizabeth Thorreld

, widow deceased late of Stowmarket, Suffolk)." The defendants are Robert Hempson and Hugh Gibson. According to E 134/11Geo2/Mich9 and C 11/1986/19 Robert Hempson had lands in Haughley, also at Stowmarket. He appears to have had money problems, with other claims being recorded against him such as C 11/1539/21 and C 11/2296/89. Amongst Staffordshire records, see D641/4/K/6/1 and D641/4/K/10/20. He was also apparently Sherriff of Suffolk in 1725.
I found the will in Norfolk:

Thurrold, Elizabeth, widow, of Stowmarket, Suffolk 1737 NCC will register Claxton 18

. (There are many variants of her surname, Terold, Thorrald etc., and they seem to be go a long way back in the region of Eye and Wortham, just over the county border from Pulham.) Apart from the two executrixes named above in Pulham and Finborough, both described as neices, two cousins are named,

Elizabeth Clopham

, and

Charles Gibson

, her late brother

William Baldwin

(who had children), and another brother

Hugh Gibson

. The will had been made in 1732. It was proved 29 April 1737. So Elizabeth was apparently a Baldwin or a Gibson. (Presumably her mother remarried in order to have male children with two surnames. Another option is that the word brother is being used for a brother in law. There was by the way a marriage between a Robert Baldwin and an Elizabeth Gibson in Stoke Ash in 1696 according to the Boyds index.) Likely she is the Elizabeth Baldwin who married

Edmund Thorold

in Palgrave in 1720 according to the Boyds index. Edmund might be the one with the will:

Thorold, Edmund, yeoman, of Thrandeston, Suffolk 1725 NCC will register Gregson 334

.
Further confirmation of a Gibson family from just to the south in Suffolk having an interest in the area of Pulham and Tivetshall, comes from a title deed kept in the Petre Collection in Norfolk. PET 253, 97X5 is a final concord showing that in 1696

Charles Gibson, clerk

, and others were buying 8 messuages and land in Burston, Gissing, Shimplinge, Tivetshall St Margaret, Tivetshall St Mary, Disse, Winfarthing, Westwick, Sloley, Tunstead, Worstead, and Skottow. In various documents we can see that Charles Gibson was rector of Thorndon and vicar of Mendlesham. In a clearly connected document from 1695 the previous year, PET 705, 261X1, it appears that the selling group led by John Cornwallis of Wingfield were united by their being heirs and executors to two deceased widows, Mary Church of Stratton next Buxton, and Elizabeth Thrower of Wilby. Thrower wills are concentrated around the town of Eye and Thornham. Again we can find the wills needed in Norfolk:

Thrower, Elizabeth, widow, of Wilby, Suffolk 1694 NCC will register Jones 12; Church, Mary, of Stratton Strawless 1687 ANW, will register, 1687-1688, fo. 47.

Again looking at wills, the Gibsons of the area seem to concentrate around Haughley, and they used the name Barnabas a few times (Suffolk wills: 1635 R2/56/451; W1/91/15 and 1664 In. 3/9/160; A5/5/62; also several PCC wills). A

Barnabas Gibson

of Little Stoneham is associated with Charles the cleric in Norfolk document NRS 11911, 27A2.
Maybe relevant: it appears an Elizabeth Gibson from Stowmarket married a George King just a few years earlier, 25 July 1726, in the Tivetshall parish of St Margaret.
It can also be noted that more Barwells were in the area, potentially children of the earlier William mentioned by Rye (buried 1737). In a similar period, Ann Barwell married Richard Smith, 24 Jun 1735 in Pulham St Mary, and Elizabeth Barwell married Stephen Brown, 11 Feb 1740/41, in Tivetshall St Mary. Going back to the 1600s though, they do not appear in the 1664 hearth tax list, and running through the parish register, which does not have so many surnames, neither the Barwells nor the Gibsons appear to be common. I suspect origins for both in Suffolk.
Children. The first few children were baptised in Pulham St Mary the Virgin, and then the baptisms move to Tivetshall St Mary. We have not only Rye's authority to compare to the registers, we also know the names of four brothers from the wills of John Barwell. What's more, in the The Norfolk Chroniclein 1783, several articles mention the sale of a large estate "in the Parishes of Dicklseburgh, Tivetshall, and Pulham, in Norfolk, In the Occupation of William Barwell, Tenant at Will". So Pulham and Tivetshall were linked by one big estate, and a William Barwell was occupying it. It is not clear whether William stayed on that estate after 1783. In any case a new Mr Barwell, farmer, was working as a farmer in Pulham much later on the Monday before 6 March 1819, when a cow of his had healthy triplets. It is perhaps surprising though, that before John, these yeoman Barwells do not appear on any lists of freeholders with voting rights in the 1700s.
1. 6 Jan 1731/32 William Barwell baptised at Pulham St. Mary, with parents William and Mary.
We should note a burial 1737 Wm Barwell buried Augst 12th, but the register does not mention that it was a child, and as mentioned above Walter Rye seemed to believe this was the grandfather of the Barwells being born by this time. The evidence, apart from the baptism, for there being a child named William in the family includes:

A deceased brother named William who had children is mentioned in the 1808 will of John Barwell, described above, along with other brothers Robert and Joseph (for whom, see below).
The above baptism roughly matches the age of death reported Saturday 1 December 1792 in the

Norfolk Chronicle

: "On Tuesday last died, in the 58th year of his age, Mr. William Barwell, farmer, Tacolnestone, this county." The burial is on FreeREG, 3 Dec 1792 at Talcolneston All Saints, which also specifies the "Mister". This implies a birth about 1734. We know from other reports in the

Norfolk Chronicle

that in 1792, before the death of William Barwell of Talcolnestone, John Barwell was looking to sell a very large estate in Talcolnestone and Wymondham. John was apparently himself living in Talcolnestone Hall Farm at the time. (Also note Rye above who associates John with nearby Fundenhall.) So William and John were apparently living in the same village.
Concerning the below marriage, Familysearch (but not FreeREG) gives ages and implies a birth year of 1734 for William Barwell, who was living in Tivetshall in 1757.
That marriage record refers to William Barwell as "junior" implying that he is the son of another older William in the area. So even without the age being mentioned, this does not appear to be older William re-marrying.
Devaney gives us good evidence that the William Barwell who was in Tivetshall in 1757 was a Catholic. He says that in 1767 there was one Catholic in Tivetshall, William Barwell, a farmer, aged 30 and resident there for seven years. I suspect the ages given in that 1767 listing are not very accurate, but the implied birth year of 1737 is not so far off.
Marriage. 8 Nov 1757 William Barwell "junior", married Ann Savill, in Tivetshall. They were both of the parish. (Familysearch has "Anne", FreeREG has "Ann". Familysearch, but not FreeREG gives ages as 23 and 22, implying birth years of 1734 and 1735.) The witnesses were Edward Howes and Roger Reeves. As discussed above, this William died in 1792 and was described in the newspapers at that time as a farmer. Ann is possibly the 60 year old widow buried at Norwich St Giles, 25 Jul 1797. This means she would have been born about 1737. There are some Savell wills, it seems, just over the Suffolk border in Oakley.
Looking at witnesses for leads: Note that one of the witnesses at the marriage in 1791 of our William Barwell and Ann Barnes was a Frances Reeve, while at this marriage in 1757 there is a Roger Reeves. This Roger appears in several Tivetshall marriages as a witness in this time. But also a man of the same name appears in Swannington marriages, including one 3 Jan 1761 where a Tabitha Reeves marries a Martin Fox. The 1791 marriage also had two Fox witnesses.
Children.

1. 1 Feb 1759
Ann Barwell
, baptised in St Ethreled Norwich. Note from above that we know that a Catholic William Barwell and his son Robert Barwell were farming in this parish in 1767. I think that this William and Robert might be the father and brother of the William who married in Tivetshall in 1757. So this gives that William a reason to be in St Ethelred but it also opens up the possibility that this baby was a late child of William senior.
Note the burial for an infant named Ann Barwell, 13th March 1759, in Norwich St Giles. The close dates make it very likely that Ann died as a baby.

2. 12 Jun 1760
William Barwell
baptised at Tivetshall, with parents William and Anne. This might be an only child, unless of course the family was not always using the Church of England for baptisms.
We have no perfect proof yet, but this man matches perfectly with our ancestor who married Ann Barnes, and as far as I know we have no other proposal for what happened to this William. Note the evidence includes both that William and John, his apparent uncle, were wine coopers, and wine merchants, in the same town, with the same reasonably uncommon surname spelling. Both are also referred to in the Norfolk newspaper with a "Mister".
2. 23 Aug 1734 Robert Barwell was baptised at Pulham St. Mary, with parents William and Mary.
Note that the will of John in 1808 mentions a brother named Robert, who was apparently not yet deceased. Robert is a witness to two marriages in Norwich in 1767. Links to the others, and evidence of Robert's children, come from Catholic registers. (Gill Blanchard checked the indexed transcript to the Norwich Roman Catholic records at the Norfolk Record Office, which covers baptisms from 1758 to 1823.) The old hand-written death duty registers on findmypast show a will for Robert Barwell in 1809, Shipdham Norfolk, but NRO say the surname is BarNwell.
Note that as explained above, Devaney's listing of 1767 papists mentions that there was a Robert of about the right age, with a father of the right name. They were farming in St Ethelreda.
Marriage.
15 Sep 1766 Robert Barwell married Sarah Pain in Carrow, Norwich. (This marriage was not in a Catholic church, but see the children below.)
Children. (Note the god-parents.)
These come from Catholic records found by Gill Blanchard.
11 July 1768. I baptized

Sophia

, the child of Robert and Sarah Barwell. Godfather – Joseph Barwell; godmother – Hannah Barwell
13 February 1773. I baptized an infant by the name of

Mary Ann

, daughter of Robert Barwell and Sara, his wife. Sponsors – John Barwell, Hannah Barwell.
3. 18 Sep 1737 Elizabeth Barwell baptised at Tivetshall, with parents William and Mary.

Possibly married Charles Wicks in Carrow, Norwich, 27 Oct 1754, or maybe died single in Norwich St Giles, 12 Apr 1763, 26 years old.
4. 31 Jan 1738/39 John Barwell baptised at Tivetshall, with parents William and Mary.
Note burial in Tivetshall: 13 May 1739: John Son of Wm Barwell.

5. 23 Mar 1739/40 Mary Barwell baptised at Tivetshall, with parents William and Mary.
Note burial in Tivetshall: 27 Apr 1742: Mary Barwell an Infant.

6. 2 Feb 1741/42 John Barwell baptised at Tivetshall, with parents William and Mary.
This is John Barwell with the will proved in 1808, who was 65 at death in 1807, and had brothers named William, Joseph and Robert, perfectly matching the boys baptised in Pulham and Tivesthall. The first record I know of his career so far is when, as Norwich city wine cooper, he took on an apprentice named Miles Cole in 23 Jan 1776, but he was already a wine cooper for the first marriage in 1768.
Marriage 1. 11 Jan 1768 John Barwell of Norwich St Lawrence married Hannah Wright in the Norwich church of St Gregory (tr), by license. The license is on pages 404 and 405 of the familysearch scans, and mentions that John is a "wine cooper", and bride and groom are both 25. John Wright, gentleman, was the other signatory for the bond. Witnesses at the marriage itself were many for some reason and include Frances Clover, Mary Wright, Joseph Barwell, Richard Pye, Sarah Clover, and Mary Barnes. The original scan can be read on page 35 here. Note that it is promising to have a Barnes mentioned, given that we are proposing that John's nephew married an Ann Barnes. (For what its worth, my impression is that there was another Barnes family based in the parish of St Gregory, who were close to the Wrights and Clovers.) Also note that Hannah Wright the bride, once she became Hannah Barwell, may well be the one mentioned above as a witness to some catholic baptisms of the children of Robert Barwell.

Children and burial of Hannah. I can only find burials for the children, both named William and marked as sons of John. One is 15 May 1768, the other 17 Sep 1769. Both are in the same "St Gregory Tr" register as the marriage. A few days after the second burial, comes the burial of the mother, Hannah, 22 Sep 1773, 38 years old, in the Norwich St Giles register.
Marriage 2. John married Mary Rose, daughter of William Rose, surgeon of Boxford, Suffolk. There is a marriage contract dated 29 Oct 1781. The marriage also apparently happened the next day, in St Saviours in Norwich. The normal parish register is here see page 43. It was in the presence of Mary Swann, Margt Punchard, and R Punchard.
Children and burial of Mary. There was a daughter Mary baptised Norwich St Andrew, 27 Oct 1783, then a son John buried 12 May 1785 at the same church. Then a few days after the death of baby John, the mother again passed away, 22 May 1785, buried at the same church, 39 years old. Sadly, as the Norfolk Chronicle says, Saturday 1 February 1794, "Yesterday se'nnight died, at Tacolneston, the 10th year of her life, Miss Barwell, the only child of John Barwell, wine-merchant, of this city". The burial was again in St Andrew Norwich, 12 May 1785. Saturday 21 May 1785, the Ipswich Journal reported that "Thursday died in child-bed, Mrs. Barwell, wife of Mr. Barwell in St. Andrew's."
Marriage 3. John married Harriot Sedley of Ketteringham, 4 Mar 1794 at Norwich St Stephen. According to the Norfolk Chronicle she was a "a daughter of John Samuel SEDLEY, of Barford and Morley, a lineal descendant of Sir Charles SEDLEY, the wit and poet". This is the wife who survived him and was mentioned in his will and the newspapers after his death. She was buried 13 Jan 1851 at St Stephens Norwich, having lived to the age of 84. Apparently her Ketteringham contacts included the Sewell family, of Black Beauty fame, one of whom was a lawyer who helped after her husband passed away, and until his son John was old enough to take it over fully. The witnesses to this wedding were James Rump and once again Robert Punchard.
Looking at witnesses: we can see that Punchard is close to John Barwell, not only because he witnessed two marriages, but also in the naming of a child. Looking into this further, we find that in the 1798 will of Robert Punchard, Upholster of Norwich John is not only close to him, but a "cousin". I have found online that Punchard genealogists believe Robert's mother Battina to have had the maiden name of Barwell, and not Bugg as appears in visitations and marriage license indexes. This could well be correct, because the marriage licenses say she is a widow, though only 21. The visitation says she was buried in Ipswich St Lawrence at age 77 in 1783. (She is not the same generation as John Barwell.) Robert's age of 58 at burial in 1798 certainly seems to match the Suffolk Robert. Margaret Punchard on the other hand must be Robert's wife, who he apparently married in her parish of Hindolveston 26 Dec 1774, her maiden name being Willis. She apparently died in 1791 at 34. Both Robert and Margaret were buried in St Peter Hungate. Battina would be another Barwell connection to Suffolk as she married in Westley and died in Ipswich.
James Rump on the other hand, appears to have been a grocer in Catton (just outside Norwich).
Children.
Robert Punchard Barwell

. Born 19 July 1795, baptised 2 March 1796, buried age 4, 18 July 1799, both at Norwich St Stephens.

John Barwell

. Born 18 October 1798, baptised 28 October at St Stephens. John took over the business and married

Louise Mary Bacon

, 4 May 1824, daughter of Richard Mackenzie Bacon. It is this John Barwell who finally managed to carry on the family business. But he also became a sherriff of Norfolk in 1839, and was notable for his promotion of the fine arts in Norwich. His own paintings are still shown. He died 27 Feb 1876.
Children. All baptisms in this next generation were Norwich, and from here it is easy to find many records of the family, so I keep it simple:
John Barwell

(the third in a row). 30 May 1825, who continued with the successful wine business. Sherriff of Norwich in 1893.

Richard Barwell

. 15 Oct 1826

Edward Barwell

. 27 Jan 1828

Henry George Barwell

. 1 Mar 1829, who worked in the construction of railways in England and Denmark, and entered the wine business in 1856. A founder of the Norwich Art Circle, known for his watercolours and sketches.

Frederick Bacon Barwell

, an artist whose works are still respected. 3 Oct 1830

Louisa Mary Barwell

. 26 May 1833
7. 7 Feb 1743/44 Joseph Barwell was the last of the baptisms at Tivetshall, with parents William and Mary

This must be the brother mentioned in the will of John proved in 1808 as deceased. He was apparently a witness at his brother John's first marriage in 1768. There is a baptism in Tivetshall 25 Dec 1782, for a Catherine Ford Barwell, daughter to Joseph and Elizabeth, but otherwise a lack of leads.

This last baptism in Tivetshall is not yet accounted for, and it may involve a scribal error concerning the parents:


28 Jan 1762 Thomas Son of William BARWELL & Mary(?) his Wife Jan. 28th., Tivetshall. Apparently the Bishop's transcript says the parents were William and Sarah, and I can at least confirm that the Archdeacon's version does, because it is scanned online at Familysearch. I guess Sarah might be correct, because there is also a baptism at Tacolneston 1739: Elizabeth daughter of William and SARAH BarDwell baptised Nov 28, (and buried as an infant Dec 2).


Who were these parents? In any case, I think this Thomas married 22 Mar 1788 to Mary Margarett Facey, late of Jamaica. Transcriptions mention an age of 21 for him and his bride, which I understand to mean "above 21" and he was from Tivetshall but the wedding happened in nearby Dickleburgh. Thomas possibly re-married as a widower in 1796, to Margaret Butterfunt of Great Yarmouth.

Note that Bardwell (with a "d") was a reasonably common surname, whereas both our family, and the above family, consistently use no "d".



The best guess

, to make it clear, is that our William, the father of Thomas and husband of Anne Barnes, was a

nephew

of the wealthy John whose will was proved 1808, a son of John's brother William (husband of Ann Savill), with both John and William being the sons of another William (husband of Mary Gibson), who was in turn the son of yet another William (buried 1737, probably married to Ann Asten). So our William, the husband of Anne Barnes and the father of Thomas Barwell, would be the fourth William Barwell in a row.

I think it is acceptable to suggest that in this case our Louisa Lydia Barwell, baptised 1838, may have been named after her well-known relative (by marriage) Louisa Mary Barwell, née Bacon, who married John Barwell some years earlier in 1824. Similarly, her aunt Harriot Barwell, baptised 1803, was possibly named after Harriot Sedley, who had entered the family a few years before her baptism in 1794. I will show below that William and Anne did use names from relatives, at least in the case of Samuel Flack Barwell, who is named after an important ancestor of Anne.




A final comment about the surname

. Despite the consistent preference this family had for the spelling "Barwell", the Walter Rye quote above indicates a claimed connection to Bardwell. Rye would have known the Barwells personally. Bardwell with a "d" is a place in Suffolk, near the Norfolk border, and right in the region where we find this family. It is the source of a surname, with various spellings, which had been held by an old aristocratic family from the region, whose main residence at one point was Bardwell Hall in West Harling in Norfolk. So, whether or not there is any close connection to those Bardwells, at the very least I see no reason to propose a link to similarly named places (and families) in the midlands, such as Leicestershire, which were more consistently spelled without the "d".


Barnes of Briston and Briningham
Barnes is one of the most common names in Norfolk, it seems, but there is also a lead in his case, and it lead successfully to discovery of Ann Barnes' family. To remind, Ann Barnes married William Barwell in 1791, when she was specifically a resident of St Andrews, Norwich. Ann and Barnes are very common names, but one of their children had a relatively unusual middle name, which looks like a preserved maternal surname: Samuel

Flack

Barwell. Looking for Barnes-Flack marriages, there was one in Norfolk, and there was a daughter Ann. It was not in Norwich, but the family does seem to have moved there for some period, and apparently owned several residences.



Benjamin Barnes

married

Dorothy Flacke

15 January 1756 in Briningham, Norfolk (by licence). He was described as a tanner and witnesses were John Woodcock and Henry B..kett. Their children's baptisms show that the family lived in neighbouring Briston, but then moved between 1765 and 1767. In the 1768 poll for knights of the shire, in Briston, free holders included John, William and Benjamin Barnes. They resided in Plumstead, Norwich and Marham respectively, so although Benjamin was baptising children around Narborough (which is near Marham) by that time, his family may have also already had a connection to Norwich. I believe John and William were his father and brother. In any case, a bit later in life it seems Benjamin had a son baptised in Norwich himself. Following are the baptisms identified so far, for children who lived long enough to be named. Many did not make it to adulthood.

Beniamen Barnes, was born 31 Jan 1757, baptised 1 Feb 1757 at Briston. The baptism mentions the parents being Beniamen and Dorathey. There are two burials a year apart, so maybe there was a second infant who died, although these burials give no details except name and date, 8 Feb 1758, and 26 Feb 1757.
Benjamin Barnes, was born 14 September, baptised 15 Sept at Briston and 16 Sept 1759 at Briningham, Norfolk (where it was noted that the parents resided at Briston).
Dorothy Barns,was born and baptised 17 September 1760 at both Briston and Briningham, where it was once again noted that they resided in Briston. FreeREG also mentions that the Briningham vicar wrote "dead" in the margin later. In the Briston register is the burial, 23 Jan 1761, of Dorothy, "dau Benieamin".
Thomas Barnes, was born and baptised 20 February 1762 only at Briningham, although the register once again says they lived at Briston. He must have died, because the name is used again.

Ann Barns

, was born 3 March in Briston, and baptised 5 March 1764 at Briningham, and 6 March in Briston. The subject of our investigation!
Thomas Barnes, was born and baptised 20 June 1765 at Briningham, not in Briston, although they still lived in Briston. FreeREG once again mentions that the Briningham vicar wrote "dead" in the margin. There is burial registered in Briston 4 Aug 1765 (only name and date).
William Barnes, was baptised 2 Feb 1767 at Narborough, Norfolk (parents Benjamin and Dorothy). Apparently he was buried there a few days later, 12 Feb 1767.
John Barnes, was baptised 14 Jun 1769 at Narborough, Norfolk (parents Benjamin and Dorothy).
Thomas Barnes, was born 30 Jun 1772, baptised 5 July at

Norwich

St Peter Hungate (parents Benjamin and Dorothy).

Mary Barnes

, was apparently baptised 14 December 1775 supposedly in Briningham, but I think more likely in Gaywood. While I am sure Mary exists, this baptism is not in FreeREG transcriptions of Briningham registers, but can only be found in familysearch I07514-6. I do not find it in the scans of the original register. This may be the same Mary who was a witness at the marriage of William Barwell and Anne Barnes in 1791 in Norwich. She can be traced in the 1841, 1851 and 1861 censuses, as Mary Locksmith, in 1841 still with her husband, in Walsingham), which both say she was born in Gaywood, near King's Lynn, not at Briningham. The Gaywood parish register does not appear to be online, and the archdeacon's transcript is scanned on familysearch, but the relevant pages have been very badly damaged, and the Bishop's transcripts seems missing for almost the whole diocese for 1774 and 1775. Mary clearly exists, but how did this transcription get into the wrong database?
The mention of Gaywood in the censuses definitely make sense when we see that there is an admon dated 20 September 1777 for Benjamin Barnes in Gaywood. The Archdeacons transcription is not damaged on the relevant page (page 71 here) and confirms his burial 9 September 1777. What's more, there was apparently one more infant who was born after him and died, buried without a name on the 5th of April 1778. Following this lead, the admon confirmed that the relict of this Benjamin, who would be administering his estate, was Dorothy Barnes. Also signing with her as co-guarantor for this responsibility was Thomas Wise of Kings Lynn St Margaret, currier. A currier works with leather, and is a trade related to the trade which Benjamin Barnes seems to have had at marriage at least, of tanner.



Lin first suggest that

Mary

(the sister of our Anne) must have married

John Locksmith in Briningham Dec 1795

, and gave names to children including Thomas Flack(e) Locksmith, Dorothy Locksmith, and Benjamin Barnes Locksmith. There are numerous other children, and at the same time in the same two registers, are the children of John's apparent brother Robert Locksmith, a farmer married to Elizabeth Bunting who must also be the one who witnessed John's marriage. At a certain point both Locksmith families seem to have avoided baptisms for a while. In 1851 and 1861 censuses, Mary is living as a widowed annuitant. I have also found the marriage licence which shows that Mary Barnes was only 20, and received permission for the marriage from her grandmother,

Anne Flack, widow

. John Locksmith was then described as a 21 year old miller of Briningham and his guarantor was

Edmund Bird

of Thornage, a farmer.

The following were the first cousins of Thomas Barwell the mariner in London.
Isabel Locksmith, was born and baptised 4 Dec 1796, but buried at age 2 months, 31 Jan 1797 (Briningham St Maurice). The parents were John and Mary (née Barns).
Thomas Flacke Locksmith, was born 23 and baptised 29 Apr 1798, but buried age 5, 28 Jul 1803 (Briningham St Maurice). The parents were John and Mary (née Barnes).

Richard Locksmith

, was born 2 and baptised 6th July 1800 (Briningham St Maurice), by parents John and Mary (née Barnes).

Robert Locksmith

, was born 8 and baptised 16 Jan 1803 (Briningham St Maurice), by parents John and Mary (née Barnes).

Mary Ann Locksmith

, was born 9 July 1805, and baptised much later 2 July 1826 at Briningham St Maurice, together with her younger sister Dorothy, with the birth being certified by the parents, John and Mary Locksmith. Mary Ann apparently married someone named Turner because "Mary Turner" is living with mother and sister, Mary and Rebecca Locksmith, in Walsingham in the 1861 census.

Dorothy Locksmith

, was born 20 Jan 1808 and baptised much later 2 July 1826 (Briningham St Maurice), with her older sister Mary Ann. Her parents were John, a miller, and Mary. she possibly married John Wigg 11 Mar 1832 in Briningham.

Thomas Flack Locksmith

, was born 14 and bapt 19 June 1810 at Briningham St Maurice, by parents John and Mary (née Barnes). (The middle name is wrongly transcribed as Hack in some places, with the cursive "Fl",

Fl

becoming "H",

H

.) In 1842 this Thomas appears to have married a Sarah (either Sarah Bambridge or Sarah Harriet Bridges) in Norwich, and then in 1845 he had a son

Flack Locksmith

. Thomas must have died when Flack was young, leaving Flack with Mary, his grandmother. Flack later married a Louisa and lived in Ipswich, where he also kept the tradition of naming his children with the Flack middle name.

Caralina Locksmith

, was born 21 and bapt. 27 Sep 1812 (Briningham St Maurice), parents John and Mary (née Barnes). Possibly married James Branch 31 Mar 1836 in Briningham.

Rebekah Locksmith

, was baptised February 1815 (Briningham St Maurice), by parents John, a miller, and Mary. She was living with her mother in Walsingham in the 1851 and 1861 censuses. 9th Jan 1861 she married John Moris or Maris in Briningham, and this is her surname in the 1861 census.

John Barnes Locksmith

, was baptised 21 Sept 1819 at Briningham St Maurice, by parents John, a miller, and Mary.

Benjamin Barnes Locksmith

(middle name Bones in some transcripts), was baptised 9 July 1822 Briningham St Maurice, by parents John, a miller, and Mary
So we started with circumstantial evidence for a connection to Ann Barnes who married William Barwell: the Flack middle name. This suggested a link between the families of Mary Locksmith and Ann Barwell, to the family in Briston of Benjamin and Dorothy Barnes. Additionally, in the case of Mary we have the clear common link to the hamlet of Briningham. Probate reference then confirmed these leads.

There is an admon for

Dorothy Barnes

, widow, 30 January 1801 in

Norwich

. Although it unfortunately mentions no Barwells, it does mention that administration is given to Mary, natural and lawful daughter of Dorothy, and wife of John Locksmith, miller of Briningham. Apart from John Locksmith, there were also signatures from

William Williams

of Thornage gentleman, and

Richard Flacke

of Briningham, gentleman. This links Dorothy to Mary, and it also means we can confirm that Dorothy became a resident in Norwich by 1801, which is where we think her daughter Ann married.

Mary Locksmith died in the last quarter of 1867 (4B/200) in Walsingham, 91 years old. John died earlier, 3rd quarter 1842, also in Walsingham (13/222).

Concerning Dorothy Barnes' links to Norwich, she died there as a widow 1801, and she had a child baptised there in 1772. Maybe she had a daughter living there, who she was living with? It seems a little unusual that Dorothy, an elderly widow, was not in her home village nor with her daughter Mary. But I will show that Dorothy's other daughter Ann Barnes was still alive, and she had married William Barwell in Norwich. It means Ann was relatively old at marriage, at 27 years of age, but this will be easy to believe when we see that several of her aunts were single until old age.

The conclusive proof comes below when we look at records concerning Dorothy's family, the Flacks.

One more generation of Barnes
Before turning to the Flacks, I can first mention what we can see of the family of Benjamin Barnes. Although his surname is common, his first name is less common, and after examination of all neighbouring parishes, there is one and only one candidate for his baptism, and it was right in the parish where he lived when he had his first children, Briston. Unfortunately this register (as we already saw) typically gives less detail than the Briningham one.

Benjamin Barnes,

born 8 Aug 1734, bapt 26 Sep 1734 at Briston. The father was John Barnes.

John Barnes

, born 3 Aug 1736, bapt 11 Sep 1736 at Briston (1 Sept according the bishop's transcript). The father was also John Barnes.

Samuel Barnes,

born 12 Apr 1738, bapt 2 Jan 1738/39 at Briston. The father was John Barnes.

Wm (William) Barnes,

born 3 Dec 1740, bapt 7 Dec 1740 at Briston. The father was John Barnes.

Mary Barnes

, born 19 Mar 1744, bapt 18 Jun 1744 at Briston. The archbishop's transcript (but not the normal register) calls the father "Mr" John Barnes this time (at least according to FreeREG).
I have not found the marriage of John, nor the identity of John's wife. But it is clear that the other couples having children in Briston in the 18th century were his two sons, Benjamin and Samuel, who were married to Dorothy and Elizabeth. (Samuel married Elizabeth High, 5 Jan 1767 in Briston itself.) So it seems very likely that these two burials are John and his wife: 1 Jan 1795

John Barnes

, was an 88 year old married man

(born about 1707)

; and 23 Feb 1799,

Mary Barnes

was an 85 year old widow (born about 1714).

I have noted that John Barnes was called "Mr" in one record. The further back we go in time, the less lightly this will have been lightly done. Also, as mentioned above, in 1768, in the poll for knights of the shire, John, Benjamin and a William Barnes were freeholders of land in Briston, and several other places in Norfolk. So they were not badly off.

John Barnes, owned freehold land in Briston, but was listed there as holding it in Plumstead. The listing concerning his holding in Plumstead shows occupation by Joseph Wakefield.
William on the other hand, freeholder in Briston, is listed there as having property in Norwich. The listing in Norwich shows his holding is occupied by Simon Greeves.
Benjamin Barnes as mentioned above, is listed as a freeholder in Briston, with property in Marham (near Narborough), but he is not shown in the list of freeholders in Marham.
In Plumstead, another man from Briston was a freeholder, one Robert Clarke. We also know that Edmund Bird, mentioned already above, and discussed further below, moved from Plumstead to Thornage.
Before 1768 there are other freeholder lists in Norfolk, but none that obviously connect to this family. If I had to guess John's origins though, it would be in a parish just to the south, Barney. Here we find a John born about the right time to a couple named Roger and Alice. Still, although some of the Barnes in Barney were wealthy enough to leave wills, there were no 1768 freeholders named Barnes in Barney. Probate documents of interest:

Barnes, Robert, of Barney 1727 ANW, administration bonds, 1727, no. 20. This one mentions a Roger Barnes, farmer of Barney, lawful brother to Robert, who is to be administrator. Also signing as guarantor is a John, who is a farmer, but I can not read the surname. Down by the signature I see that he is probably John Palmer.
Barnes, Robert, of Barney 1727 ANW, administration bond, 1727, no. 96. Ruth Claxton, natural sister of Robert is administrator. Robert is described as having been a brick burner. He guarantor on the bond is one John Barnes of Barney, wool comber. Mary Ivory and Susannah Say sign off on the document. And the statement that Ruth understood her responsibility is signed off by the Vicar of Barney, Francis Say.
Barnes, Job, of Marham ANF administration bond, 1728-1735, no. 115. The admon is given over to John Butler of Narborough, miller, as "principell creditor". His bondsman is Jeffrey Brown of Narford, who I interpret to be a "gentleman" (

generosum

in Latin).
Barnes, Benjamin, grocer, of Norwich (Norfolk) 1741 DN/INV 81A/5 and NCC administration bonds 1741 no. 14. The administrator is to be Mary Barnes, the widow. She has nice hand writing. Her guarantor is a James Wingfield, gent. They are all residents of the parish of St Simon and St Jude in Norwich. The inventory is big, as he was a grocer.
Barns, Ralph, of Marham 1766-1767 ANF administration bond, 1766-1767, no. 60.: Wife was Mary. Another widow named Susan Barnes stands guarantor with her. Ralph was a farmer.
Barnes, Robert, of Barney, Norfolk NCC administration bonds 1777 no. 19. Administrator is Susannah Barnes of Barney, the widow of Robert. This Robert, like the one 50 years earlier, is a brick maker. Her guarantor is Isaac Loads (or Leads) of Barney, wool comber. The document is signed off by Thomas Mendham and Joshua Smith. Smith also signed off on the document that Susannah understood her responsibilities.
Barnes, William, of Barney ANW, will register, 1786-1787, (1787) fo. 98, no. 65. This William leaves everything to his daughter Alice. The only other people mentioned are witnesses: Edmund Elgar, Henry Riches, Robert Riches.



Plumstead

may well be a lead, as this parish also shows Barnes entries in the parish register. Edmund Bird, who appears as a witness in several Flacke documents, was apparently from there as mentioned at his own marriage to Ann Williams in Thornage, 12 Jun 1781, which was witnessed by John Barnes and Eleanor Flacke. As we will see below, Ann Williams was also a Flacke.

Flacke of Thornage and Briningham

Working further back in time from Dorothy and looking for more grip on events, Lin helped point me towards the likely family of Dorothy Flack, mother of Anne Barnes, and the source of the Flack middle name. Note that in the period we are discussing, Flack could be spelled as "Flack" or "Flacke" and indeed the "F" was often doubled in hand-writing, to make it clear it was not an old-fashioned long "s".



Thomas Flack

married

Anne Wrench

in Aylsham St Michael 24 April 1734, (both single). The license is on page 134 on the relevant ANW scans at familysearch, and shows a

James Martin

of Watton, gentleman, vouched for Thomas. At that time Thomas was already a resident of Thornage, as shown also in the elector rolls, although he had not yet been appointed any position there. Flack was a cleric, and Anne Wrench's father and brother were also clerics. The wedding was in the parish of the bride's father.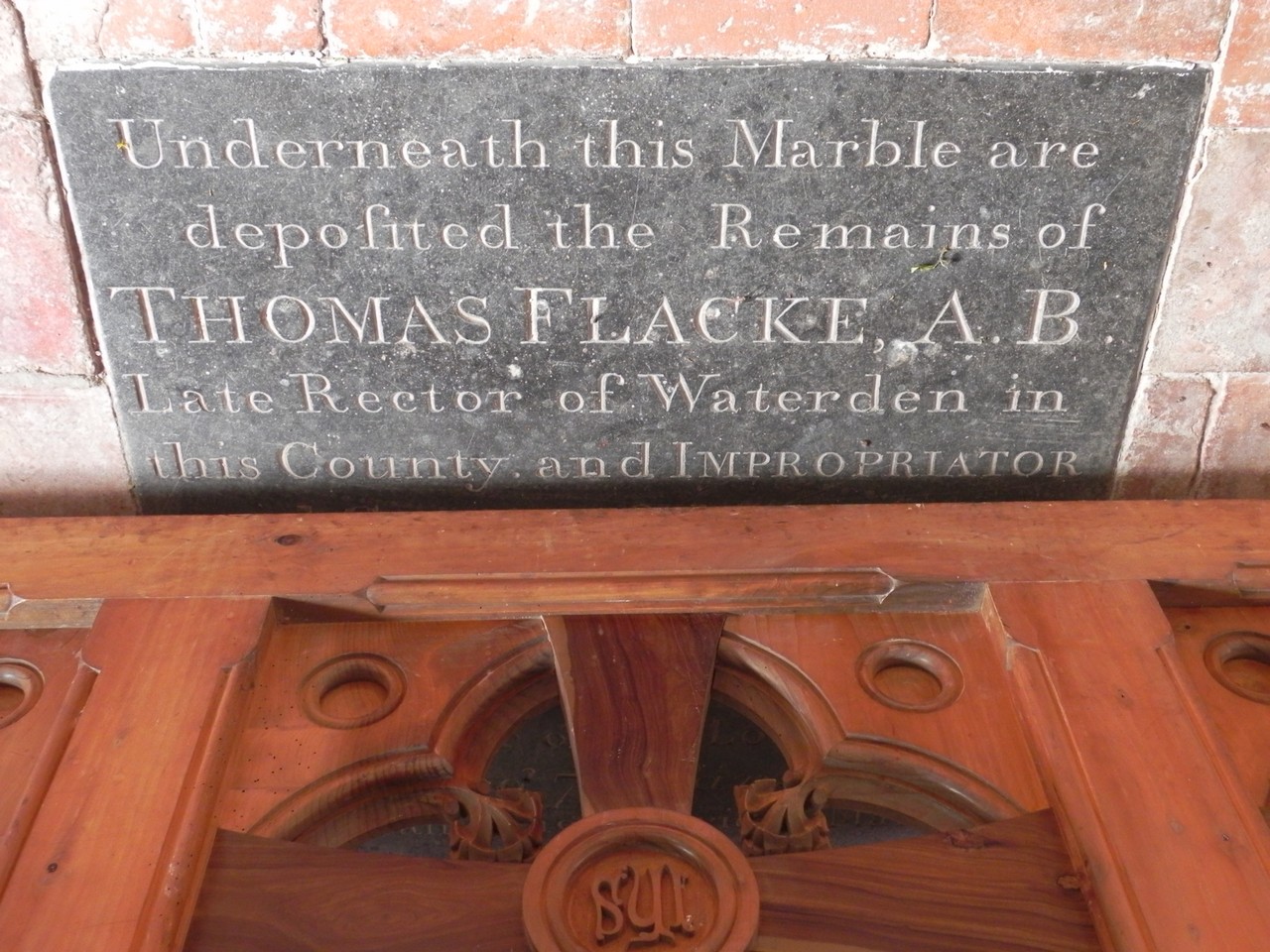 Thomas Flack was buried 31 Oct 1780 at Briningham. The 1780 will for Thomas Flacke, clerk of Thornage, mentions

wife Ann

, single daughters

Bridget

,

Mary

and

Eleanor

, a son Richard, a

nephew Samuel

Flack

, plus, most importantly for our story, a married daughter

Dorothy Barnes, "widow"

, and a grandaughter

Ann Barns

(the only grandchild mentioned). This evidence not only confirmed the connection of Thomas to the Dorothy who married Benjamin Barnes, but also told us that her daughter Ann survived at least until 1780, and did not die as an infant as so many children did. Strangely Thomas does not mention Mary Barnes who was another surviving grandchild, although she clearly also survived well into the 19th century, as we see in later wills of the family. Possibly this is because she was still an infant (and infants often did not survive). Katherine Flacke, another daughter, is also not mentioned, but probably because she had married well, as will be explained below.

For reference, it is interesting to note some details of the lands he names in the wills for passing to specific legatees.

Copyhold land in Briningham called Mill field. Two pieces, each of about 3 roods. Part of a manor belonging to the Earl of Buckinghamshire. This is for daughter Bridget.
Copyhold inclosure called Playfords, in Briningham, held of Sir Edward Astley's manor of Thornage. This was for daughter Mary.
Copyhold land, about 1 acre and 1 rood and a half, within North Fields in Briningham. Held of Sir Edward Astley's manor of Melton. This was for daughter Eleanor.
All other messuages, lands, tenements and hereditaments not otherwise mentioned are to go on a share-and-share-alike basis to the said 3 unmarried daughters AND daughter Dorothy Barnes, widow.
He specifically says (and this will become interesting when we look at some legal cases brought against Thomas) that if his personal effects are not enough to pay off all debts, that his wife is authorized to mortgage on his lands, "above the present mortgage thereon".

Thomas Flacke, being a cleric, can be found on the English clergy database online. This informs us that he had a BA, became a deacon 25/09/1748, priest 21/05/1749, and had the following ordinations and appointments, all in the general area of Briningham:


Deacon

: Chapel at the Curate of Hindringham. Ordination 25/9/1748, Bishop Samuel Lisle, Norwich.

Priest

: Briningham. Ordination 19/5/1749, Bishop Samuel Lisle, Norwich.

Priest

: Chapel at the Curate of Bramingham, 21/5/1749, at the age of 39, Bishop Samuel Lisle, Norwich.

Rector

: Waterden, 31/10/1750 under the patronage of

Thomas Coke, 1st Earl of Leicester, KB (1697–1759)

. Ordinary/jurisdiction Thomas Hayter, Norwich. Vacated 13/12/1780, when he died.

Curate

: Barney, 22/06/1753. Ordinary/jurisdiction Thomas Hayter, Norwich.

Curate

: Briston, 18/08/1758. Ordinary/jurisdiction Thomas Hayter, Norwich.

Curate

: Hindolveston, 3/05/1764. Ordinary/jurisdiction Philip Yonge, Norwich.

Rector

: Twyford, 22/02/1779 under the patronage of Nathaniel Cowper, gentleman of North Elmham. Ordinary/jurisdiction Philip Yonge, Norwich. Admitted and instituted Personal union established with the rectory of Waterden, Norfolk. Vacated 27/03/1781, when he died.

The two mentions of death in this list approximately match the burial and will mentioned above, but not the exact date. Presumably the date recorded on this database is for some type of registration or announcement of the fact. The photo to the right is hot-linked from the gravestonephotos.com website and comes from Briningham.
Other online sources such as this book about Gonville and Caius alumni, tell us about his earlier education:


Son of Rev. Richard Flack, rector of Congham St Anne, Norf. Born there. Educated eight years, at his mother's house, under Mr Foster; then at a private school at Darsingham, Norf., six months; and two years, at his mother's house, under Mr Squire. Age 17. Admitted pensioner, June 1, 1726. Tutor, Mr Breese.



It will be dicussed more below, but we should note here that there is quite a big gap between Thomas graduating and marrying, and the time when he becomes a cleric. It is in this period that a series of legal cases occurred.



Anne Flack née Wrench

was buried 15 Jul 1800 at Briningham, Norfolk the wife of Rev. Thomas Flacke, 88 years old. The burial record does not mention her being a widow, but the will proved 1801, and made 16 Feb 1794, does mention it. She intended that her exectutor would be her good friend

Reverend Repps Browne of Fulmodestone

, a cleric, and apparently she gave him the will in a sealed form. The will mentions married daughters "

Ann Bird & Catherine Culley

", and unmarried ones, "

Mary Flacke and Eleanor Flacke

". The records include a signed statement by

Daniel Jones

that he had helped draft this will in 1794, and confirmed that the sealed will produced by Reverend Repp at the funeral was the same.

William Williams

also signed this statement. Both Williams and Jones were gentlemen of Thornage. However just as Anne herself had done when her daughter Eleanor died (see below) the Reverend renounced the executorship meaning it went to her daughter Mary Flacke, the wife of Samuel Flacke. The said Samuel Flacke and William Williams signed as guarantors for Mary on the admon.

Here are the children of Thomas and Anne.

Thomas Flacke, infant, was buried in Thornage 30 Nov 1735. He was one of several Thomases who died young, and it was clearly an unfulfilled aim to have a son named Thomas.

Dorothy Flacke

was baptised 19 Aug 1736 at Thornage, Norfolk, by parents Thomas Flacke and Anne. By 1780 (her father's will) her married surname was Barnes or Barns, and she had a "daughter Ann Barnes" still alive. She is also mentioned in her brother Richard's will of 1802 which is discussed below.
Thomas Flacke baptised 10 Nov 1737 at Thornage, with parents Thomas Flacke and Anne. Buried 25 May 1738 as an "infant".
Jonathan Flacke baptised 22 Jan 1738/39 at Thornage, with parents Thomas Flacke and Anne. Buried March 1738/39 as an "infant". (There was also an earlier Thomas infant buried 30 Nov 1735.)

Anne Flacke

was baptised 25 Feb 1740/41 at Thornage, with parents Thomas Flacke and Anne. Was still alive in 1748 (see below) and apparently married

Thomas Williams

, widower, 21 May 1771, in Thornage, with witnesses Samuel Culley and Thomas Flacke. In the wills of her mother (made 1794) and brother Richard (1802) we see her referred to as

Ann Bird

, and in the will of her sister Mary (made 1816) she is "

Ann Kelley (formerly Ann Bird)

". It seems Thomas Williams was buried 16 May 1775 in Thornage, and they had William, who was baptised in Thornage 19 Sep 1772. Then

"Ann Williams", widow

, who married

Edmund Bird

, widower of Plumstead, 12 Jun 1781 in Thornage, was actually originally Ann Flacke. The witnesses are no less than John Barnes and Eleanor Flacke. They had a son John in Plumstead, b.19 Jul 1782, bapt. 21 Jul 1782. Edmund Bird was then buried 10 Apr 1798 in Thornage. On the ANW Admon for Edmund Bird of Thornage in 1798, Ann Bird is widow and administrator, and William Williams and Elizabeth Green are guarantors.


Open Question

: It could be very useful to find out what happened to Ann, as she lived into the period where we do not know what happened to our family. But I have not tracked any marriage to a Kelley.


There might be a connection to the marriage in the nearby parish of Barney, 19 Nov 1816, William Kelly, of St John Sepulchre in the City of Norwich, married Susanna Bird, with witnesses Ann Bird (signed with a mark) and Gotts Bird. A Gotts Bird and an Ann née Austin were having children in Barney from about 1794 to 1806, after marrying there in 1792.

There is also a marriage for an Edward Kelly and an An Bird in 1810 in St Marylebone in London, showing in the Boyds index, but inspection shows that this Ann was a spinster. It is worth noting that Anne would have been about 75 in 1816, so quite elderly despite her recent marriage.

There is also a marriage 29 Nov 1803 in nearby Oulton, between Ann Bird and Thomas Keeler, by banns. Witnesses John Poll and someone named Ann. Problem with this hypothesis is that this Ann Bird might be the onewho was buried as Anne Keeler, 28 Dec 1823 in Oulton, but in this case she was too young - only 43 at death.


Bridget Flacke

was baptised 1 Mar 1740/41 at Thornage, with parents Thomas Flacke and Anne. She was still alive and single in 1780 when her father died. According to her brother Richard's will of 1802 she married

George Bambridge

and came to live in South Creak. The marriage was 20 Dec 1787 in Thornage, with witnesses

Robert Brereton

and Mary Flacke. George was a resident of Stody at that time, and appears to have been a cordwainer according to NRO documents such as NRS 22815, Z72. They apparently maintained a connection to this place, which the registers and will indexes seem to indicate as his family's home. Bridget's sister Mary's will calls Bridget a widow in 1816. Her husband George Bambridge had been buried in Stody 13 Apr 1815, but the register says he was a resident of South Creake. He was reported as being 72. His will confirms his wife's name:

Bambridge, George, of South Creake 1815 ANF will register 1814-1815 fo. 414 (1815 no. 36)

. Bridget Bambridge

was buried in Stody 17 December 1829, with the age given as 88, matching her baptism. This must be their son's will:

Bambridge, George, yeoman, of Stody 1834 NCC will register Lane 823

Thomas Flacke was baptised May 1742 at Thornage, with parents Thomas Flacke and Anne. He was buried 28 Jun 1742 as an "infant".

Katherine Flacke

was baptised 21 Apr 1744 at Thornage, with parents Thomas Flacke and Anne. She married Mr. Samuel Culley at Ludham, and died in 1808, in the 65th year of marriage. She is also

Catherine Cully

in her mother's 1801 will, and her marriage to

Samuel Culley

is mentioned in brother Richard's will of 1802. It appears in the Thornage register 23 Jun 1766, with witnesses Catherine Artley and Thomas Flacke.

Richard Flacke

, the only son who grew to adulthood, was baptised 5 May 1745 at Thornage, with parents Thomas Flacke and Anne. He was buried at Briningham 2nd February 1802, a single man, 57 years old. The breakthrough which proved that we have the right Barnes family which married our Barwells came first with National Archives document IR 26/390/8, Abstract of Will of Richard Flacke, Gentleman of Briningham, Norfolk. Proved in August 10, 1802. Richard assigned William Williams of Thornage, a "nephew" as sole executor. This William must have been the son of his sister Ann. Richard left an annuity first to his housekeeper Sarah Colman until she married or died, then to go to his sister Bridget Bambridge, and after her decease, to be split 4 ways, between the other 2 remaining sisters, Anne Bird, Catherine Culley, "

and the remaining part or share to be equally divided between

Anne the wife of William Barwell

, and Mary Locksmith (

which said Ann Barwell and Mary Locksmith are the only surviving Children of my late sister Dorothy Barnes deceased

)

". For some reason, Richard is apparently interred with the

Brereton

family, a local family who appear as witnesses here and there. Probably it is because one of them (Shovell) became local cleric, an old Flack job. As we will see, there seems to have been a strong tradition, at least amongst these families, of incoming clerics becoming part of the family of the clerics they replaced.
Thomas Flacke, infant, was buried in Thornage 5 Jan 1746/47.

Mary Flack

, was baptised 20 Dec 1747 at the neighbouring parish of Stody, with parents Thomas Flack and Anne. Newspaper adverts in 1749 also mention Thomas Flacke of Stody, when he was involved as a contact for some land being sold, and Stody is mentioned in a legal case, C 11/331/31, "Howes v Flacke" of 1748, to be discussed below, as the place where the family were living. So Stody seems to have been home for a few years. (Could this be

because

of the legal dispute?) In her brother's and sister's wills we see that she married

Samuel Flacke of Filby, widower

, by 1802. This will be discussed separately below.
Rebecca Flacke was baptised 15 Jan 1749 at Briningham, Norfolk, parents being Rev. Thomas Flacke and Ann; and was buried 29 January 1750/51 Briningham.
Thomas Flacke was buried 14 Sep 1751 at Briningham.
Jonathon Flacke was baptised 25 Apr 1752 at Briningham with parents being Rev. Thomas Flacke and Ann. Buried 16 Jun 1752 Briningham.
Rebecca Flacke was baptised 31 Aug 1753 at Briningham with parents being Rev. Thomas Flacke and Ann. Buried 24 Sep 1757 Briningham.

Eleanor

Flacke

was baptised 27 Nov 1756 at Briningham with parents being Rev. Thomas Flacke and Ann. She was still alive and single in 1780 when her father died. Her will was made 23 Feb 1797 and published 2 days later, with the burial at Filby being 2 more days later, on the 27th in Filby, where her sister lived. The register says she was 37, and a spinster. The will describes her as being of Thornage but has a note to say that the testator lived and died at Filby. It left everything to her mother Anne Flacke and sister Mary Flacke, but the record shows that Anne recounced being executrix, and this responsibility went to her sister "Mary the wife of Samuel Flacke residuary legatee within named". A second confirmation of the Barwell link comes with the 25 February document to confirm this administration being warranted by "Samuel Flacke of Filby, Farmer", "

William Barwell of the City of Norwich Wine Cooper

" and "

Francis Smith of the said city Cooper

". (I discuss this lead in the Barwell section above.) Furthermore the 12 February [sic] renunciation document by Anne, the mother, is signed by Anne Barns and W Williams. Effects were apparently less than £100 according to a later note.
So based on the wills we can say that we do certainly descend from the Flackes of Thornage. It appears that the Flackes are the source of not only the Flacke middle name but probably also the names Thomas and Samuel. As we have seen, the name Samuel survived to be used again by the Willis family in Australia.


Samuel Flacke, widower, of Filby
We must not ignore the Samuel Flacke who Mary married. Was he a close relative? The marriage happened 17 Feb 1794 in Thornage, and was witnessed by

Eleanor Flacke

and

Edmund Bird

. Samuel's first wife had been (according to a burial record in Filby 27 Oct 1793)

Elizabeth Clark

, and 49 years old at her death. They had married 9 Apr 1765 in Blofield. Filby and Blofield are near each other, and to Yarmouth and Bramerton, but far from Thornage. I can find baptisms and burials for daughters:

Ann Flack, daughter of Samuel and Elizabeth, 12 Jul 1766 in Blofield. She was buried 9 Nov 1766.

Elizabeth Flacke

, daughter of Samuel and Elizabeth, 15 Feb 1778 in Bramerton. Married

John Howard

in Filby, 14 Jul 1786 (marked as spinster). John was from Beighton, where there was a Howard family farming there and in Moulton it seems, but he does not seem to be an heir in the main line. The couple appear to have had a daughter Elizabeth born there 18 October 1798, baptised 21 October. Samuel Flacke's will indicates that later the couple lived in Great Yarmouth, where John was a husbandman, and one of their children was named Samuel. He could possibly be the baptism of Samuel Howard in Blofield, 6 Jan 1803, whose parents were named John and Elizabeth. If so, then the same couple also seem to have had a daughter Harriet, baptised 16 Feb 1805.
Lydia daughter of Samuel and Elizabeth was buried 10 Dec 1783 in Filby at the age of 1 month.
My first guess was that this Samuel must be Mary's uncle who will be explained below. The area where we first find this Samuel is the same as where we last see the brother of Thomas, who had also trained as a cleric. But it is striking, given his education, that he signed documents with a mark, and also his age at death implies a birth year around 1736, whereas Thomas's brother Samuel was born more than 20 years before in 1713. A lead comes in the will of Thomas Flack in 1780, already discussed above, which refers to his

nephew

named Samuel Flacke. So Samuel and Mary were first cousins.

Samuel and Mary moved to Hindolveston later in life (back near Thornage). The 1806 electoral rolls also shows that this Samuel in Hindolveston still had land in Yarmouth. Mary Flacke, his wife, died first and was buried in Hindolveston 6 Mar 1816 at the age of 69 (so born about 1747, which would be a perfect match). Probate reference

1810-1824 PRDC 1/2/10 fo. 184

. It was made 28 February 1816, and proved 26 July 1816. She opens by describing herself as a yeoman and stating that the will is made "in pursuance of the power and authority given and reserved to me provisions to my marriage contract with the said Samuel Flacke". Her executors are William Hardy, beer brewer of Letheringsett and Thomas Tary shop keeper of Hindolveston.

Her husband is to get 100 pounds plus interest. But after he dies:
200 pounds is to be used to buy securities in order to pay interest to

Mary the wife of John Locksmith, miller of Briningham

. And after Mary's decease, to her children.
Another 200 pounds was to be similarly used for the benefit of "

Ann Kelley (formerly Ann Bird)

", and after her decease this is to be divided between "the children of the said Ann Kelley and unto the

two Daughters of Ann Barwell

equally to be divided amongst them". (So we know there were two living daughters in 1816, which means Mary Ann Barwell was still alive.

But does this wording imply that Ann was already dead?

)
Another 100 pounds for Mary's sister

Bridget Bambridge, widow

. After her death, this would be to the benefit instead of

Elizabeth the wife of John Howard of Great Yarmouth

, husbandman, which is of course her step daughter, the daughter of her husband. After Elizabeth dies the interest from this 100 pounds is for "my Nephew William Williams" and "my nephew John Bird", who would of course both be children of her sister Ann.
Samuel Flacke, said to be 84 year old, was buried in Hindolveston 17 Jun 1820 (so born about 1736). The will was made 12 January 1819 and proved 26 June 1820. Probate reference is

1820 NCC will register Mack 433

. The main beneficiary and executrix was his daughter from his first marriage,

Elizabeth Howard, wife of John Howard of Yarmouth

. She was to give his watch to his grandson

Samuel Howard

as a "particular mark of love and affection". The will emphasizes very strongly that her inheritance is for her without any control or meddling from the husband.


The legal documents
Concerning the family of Thomas Flacke in Thornage, some interesting legal documents also exist in The National Archives in Kew, which I have copies of. They give important leads to other parts of the family, especially the Wrenches and other ancestors of Thomas's wife Anne. Such leads are taken up more fully on the webpage dedicated to her ancestry. These cases happened when the eldest girls were still young and Richard and the younger girls were not yet born.

These documents also seem to define a period in the life of Thomas. Thomas would have been relatively young when he started being involved in legal disputes, or in any case he had not yet taken up any of his appointments. He matriculated in 1730, having been born in 1709. There is then a long gap until his first appointment in 1748, which matches the period of his legal troubles concerning money and the assets of especially his wife's family, but also his own. It seems that he converted a lot of land into South Sea annuities, and that things went badly. In fact I think we can wonder if he ever intended to become a cleric like his father, both his grandfathers, and his wife's father and brother. For a long period he maybe intended to be landed gentleman.



Charles Squire

, seen in all three legal cases representing the Flack girls' interests and apparently his own, was by this time already rector of Congham, which is a parish where the father of Thomas had previously been rector. Not only that, but he had married Bridget Flacke, 10 Sep 1730 in Congham, who was the sister of Thomas and Samuel. I will construct a more full Flack family tree below, once we have gathered the evidence. From records there we will see that later in life Charles was a master at the grammer school of King's Lynn.

Why would Thomas Flack be suing his own children in the first case? Legal systems have always created strange situations, and there was an old tradition going back to the middle ages, of creating "fake" cases in order to get a judgement on record and avoid problems later. This one involves the inheritances of the Wrench family. The two 1744 files are apparently two parts of one case, and they appear to be trying to get court approval for violating old contracts involving the inheritances of family members now deceased. The defendants are the same people who might have opposed the proposed actions, but they do not seem very opposed.

Many of the people mentioned appear to be relatives of Anne, the wife of Thomas.



Reference: C 11/457/24, "Wrench v Clarke", of 1744.

Plaintiffs: Jonothan Wrench, clerk and Thomas Flack, gent and Ann Flack his wife.

Defendants: John Clarke, Dorothy Flack, Ann Flack, Bridget Flack and Catherine Flack, infants (by Charles Squire), Charles Squire, Thomas Morse, Edward Howman and Sir Benjamin Wrench kt.

18 October 1744. The aim of these documents was to get basic facts straight from witnesses.
William Greenway of Norwich confirmed the contents of a quadripartite (4 party) agreement 10 May 1703 involving the following 4 parties: 1. Ann Howard, Jonathan Wrench, and Ann his Wife; 2. Roger and Edward Howman; 3. Benjamin Wrench and John Morse; 4. Samuel and John Clerke. (This would have been one year after the marriage of Jonathan Wrench and his wife Ann. See the other webpage.)
Edmund Jewell of Aylesham confirmed a tripartite document 20 April 1734 involving 1. Thomas Flack; 2. Jonathan Wrench and Ann Howard; 3. Charles Squire and Thomas Morse. (This would have been about the same time as the marriage of Thomas Flack and Ann Wrench. See above.)
Also he confirmed that this Thomas Flack and his wife Ann, who was Ann Wrench before marriage, are the same ones who are complainants in this case, and the said Charles Squire and Thomas Morse are two of the defendants (actually I suppose Thomas is a son to John Morse). He also knew Jonathan Wrench the elder had died more than 4 years before, and Ann his wife more than 30 years before and had been buried in Aylsham. Also Ann Howard is the same person as Ann Baldwin who was buried in the parish of Salle. (I note that Salle is where Thomas Flack's grandfather Samuel had been Rector. His predecessor, I note, had been named Roger Howman.)
William Brooke of Norwich confirms that Ann Howard, widow, remarried first, his father, William Brooke, cleric. (Died 1714 I believe.) Next she married Robert Baldwyn, beer brewer of Norwich, and was buried as Ann Baldwyn in Sall, about 10 years earlier (around 1734).
Reference: C 11/2098/25, "Wrench v Clarke", of 1744.

Plaintiffs: Jonathan Wrench, clerk of Aylsham, Norfolk (only son and heir of Jonathan Wrench senior, clerk deceased late of Aylsham), Thomas Flack, gent of Thornage, Norfolk and Ann Flack his wife (formerly Ann Wrench, spinster, only daughter of said Jonathan Wrench, deceased).

Defendants: John Clarke, DD, Edward Howman, Sir Benjamin Wrench kt, Charles Squire, Thomas Morse and Dorothy Flack, Ann Flack, Bridget Flack and Catherine Flack, infants (defended by said Charles Squire).

There are 6 pages. The 1st two are the complaint; page 3 is a document about the need for a guardian to appear for the infants; page 4 is the defense of John Clarke Doctor of Divinity; page 5 is the defense of Benjamin Wrench and Edward Howman; and finally Charles Squire and Thomas Morse are on the last page, supposedly speaking independently, but in one written statement. In many ways, each of these pages simply repeats the same history and ends by asking the court to decide if the complainants can do what they propose. For genealogy it is good that some more details are given about the parties to the 1703 indenture :

Apparently in that 1703 indenture the first parties (Jonathan the elder, his wife and mother-in-law), in pursuance of articles in the marriage agreement they had made before the wedding, agreed to register their agreement to the Court of Common Pleas in Westminster and to Roger and Edward Howman (who I can add are both nephews of Ann the widow of William Howard) concerning various lands. These lands were to go two thirds to Jonathan Wrench the son, and one third to Ann Wrench the daughter, but limited by a condition that 56 pounds per year went to their grandmother Ann Howard while living. After she died, the money coming out of the state was to be "to the use of", or managed by, Roger and Edward Howman, for 99 years but under rules all long since expired, then to the use of Jonathan the elder. Then after his decease, to Ann his wife, and then after her decease to the executors, administrators and heirs of Benjamin Wrench and John Morse for a term of 500 years, which term was apparently the term still running. Edward Howman and Benjamin Wrench describe this role as being trustees, without an interest. They note (as do the other defendants) that "the Compainants Thomas Flack and Ann his Wife are desirous that the Complainant Ann's Third part [...] should be sold and disposed off" and then used to buy lands in Norfolk. They say they are willing to do whatever the honourable court sees fit. The page recording the defense(s) of Charles Squire and Thomas Morse (dated 25 May 1744) closes in a similar way. It mentions the ages of the children: Dorothy about 7, Ann about 4, Bridget about 3, and Catherine about 2 months.

We should note that these lands in Suffolk are a lead for future research. It appears that they came from the Howard family of Bungay. Another obvious question is the relationship with the Clarkes and Howmans. Concerning the Howmans, the will of Anne Baldwin gives the answer, as we will discuss on

the webpage which follows the Howard pedigree

back further in time. I shall also discuss a 1719 legal case which makes it clear that in fact Anne Baldwin had little control of the 56 pounds income, which was in effect already coming from her son Jonathan, and actually going to her third husband rather than to her directly (which is one aspect of her complaint in that case).


Thomas and Anne apparently managed to sell of the lands in Suffolk but it seems they invested badly, including into South Sea annuities, and things went badly. Thomas was involved in legal disputes with debtors for the rest of his life. He possibly never intended to enter the clergy nor to move to Brinington. Here are further cases related to Thomas Flack, some of which I have copies of:

Reference: C 11/2108/18 "Flacke v Buxton", of 1745. Plaintiffs: William Flacke, gent of Thornage, Norfolk. Defendants: Francis Buxton gent, John Howes, […] Ellis and [...] Ward. [Note: I have copy and it clearly concerns Thomas Flacke, not William Flacke.]
Reference: C 11/2108/16, "Flack v Howes", of 1746. Plaintiffs: Thomas Flack, gent. Defendants: John Howes, esq and others.
Reference: C 11/331/31, "Howes v Flacke", of 1748. Plaintiffs: John Howes, esq of Norwich Norfolk, Ben Joseph Ellis DD of Norwich and [...] Townsend, clerk (surviving executors of Charles Ward). Defendants: Thomas Flacke and Ann Flacke his wife, Dorothy Flacke, Ann Flacke, Bridget Flacke, Catherine Flacke, infants (by Charles Squire clerk, their guardian).
This is a dispute about money which Thomas Flacke apparently owed to Charles Ward before he died. I think it has a connection to the previous cases in an indirect and messy way. I shall extract some interesting points. Because lands were part of the lending agreements, it mentions that Thomas (or his family in any case) had, at least when the lending was arranged, lands not only in Theberton, but also in Thornage and a place they refer to in various ways including Burmingham and Burlingham. The claim is that Thomas had pretended he fully owned the lands in Theberton in Suffolk, although he did not. (The accusation is at one point described as a conspiracy by Thomas and Ann.) They accuse that Thomas was able to sell the Theberton lands in the meantime, and also they claim that Thomas had bought a considerable amount of
South Sea
annuities with this income.
Charles Squires' statement on behalf of the children is dated at Stody, as is the defense statement of Thomas and Ann. This matches baptismal and newspaper information that this is where the family must have been living for a few years at that time. Maybe the legal dispute even forced them from their other home?
The defense statement also confirms that Jonathan Wrench the elder left only two children when he died, Jonathan the younger (still alive) and Ann the wife of Thomas Flacke.
Note that the land in Burmingham or Burlingham is a bit of a surprise. The modern Burlingham is not near Thornage or Theberton, the two places where Thomas and his wife's families seems to have had possessions. I am wondering whether this simply refers to Briningham. By coicidence, the mother of Thomas was a Burlingham, but I also wonder if it is
not
a coincidence, because maybe the surname does not derive from the modern Burlingham? I note that in Blomefield's time it
was called
both Bruningham or Burningham. There is also a Braningham in Norfolk.
Reference: C 12/310/16, "Howes v. Flacke" of 1750.
Reference: E 134/33Geo2/Trin2 of 33 Geo 2 (22 June 1759 - 21 June 1760). Henry Baines, gent. v. Thomas Flack, clerk, Edmund Jewell: Capital messuage in Thornage, parcel of the manor of Thornage (Norfolk). Mortgage. Repairs, &c., &c.: Norfolk
Reference: C 12/1230/42 "Howes v Flacke" of 1777.
On the Howard webpage, I shall discuss a much earlier legal dispute of 1719, where Ann the mother of Ann Wrench complained about her own third husband, Robert Baldwin, and made it clear that the Suffolk lands discussed in this 1748 case, must have come from William Howard (or Haward) of Bungay.

The Flack(e) family, as far as we can take it.
By looking at Cambridge University alumni biographies we can form a small family tree of Flack(e) clerics in Norfolk. We can add information from the parish register of Chattisham in Suffolk (some collected on the Flack genealogy page), also from several old Suffolk wills, and from a few National Archives documents. The furthest I can go so far is three brothers,

William

,

Richard

, and

Thomas Flacke

, whose father we do not know but who somehow came to Chattisham near Ipswich around 1600 and became important there.



1. William Flacke, yeoman.

The earliest document we have so far is the will of William, yeoman of Chattisham, of 1618 (Suffolk will IC/AA1/54/116) corresponding to a burial 17 November 1618. His wife was Martha, which would be

Martha Dogget

who he married only 2 years earlier in 1616, according to Boyds Index. This William appears to have had a young living daughter

Marie

, less than 18, and an unborn child. I note that the family of Martha Dogget has been studied by other genealogists, such as

on this webpage

, and

this one

. She remarried to

John Firmin

and emigrated with him to America. It does not seem her children played any further role in Chattisham.

William's

will mentions a brother

Thomas

, sisters

Mercie

? and

Susan

?, and his brother

Richard

who was to be sole executor. William mentions that he has lands on lease of Chatsham (Chattisham) Hall. This would appear to refer to the manor of Chattisham Hall which was by this time a possession of the provost and fellows of

Eton college

in Windsor, who had swapped it with King Henry VIII for what is now

St James Palace

in London, after he had earlier had

Cardinal Wolsey

disposses the

Priory of Wix

of it as part of the so-called

Dissolution of the Monasteries

. This is important, because soon after this will we find this land leased from Eton was in the hands of Richard Flacke. That Richard is William's brother Richard.

Concerning this lease and manor, I have found

an online scan

hosted by the National Archives, concerning the historical documents about Eton's possession of the Chattisham Hall manor. At scanned page 180 we find that William Flacke was named in a new lease of 16 December 1616, for a 21 year term, in the same year as his marriage. It had apparently been held by Robert Barker before him (from 1607), and before him, George Barker (from 1564). The lease was for "the manor Chetsham with the parsonage there, and all tithes, demesne lands, meadows, feedings, pastures and other appurtenances of the manor, the advowson of the vicarage, woods, underwoods, wards, marriages, rents, reliefs, waifs and strays, fines, heriots, perquisites of courts and

leets

being excepted and reserved to the lessors" [the lessors being Eton college]. Technically the surviving document of 1616 still names Robert Barker as lessee, but states that "he will not let or grant and part of the premises to any persons other than to William Flacke for the next 8 years". It seems both from the will of William, and the lease renewals, that in practice William was now holding the lease, and effectively running the estate for the absentee lords of the manor. A good description of events can be found in a legal case in 1644, when Robert Barker sued Richard Flacke concerning the manor and rectory of Chattisham, Suffolk (

C 6/138/28

):

whereas the sd Orator & his father & other his Anncestors by the space of eightie yeres together at the least helde as farmers of the [provost] & colledge of Eaton in the Countie of Buck commonlye called the kings colledge of Eaton All the mannor lease wth thappurttenances called Chattisham Mannor house in the said countie of Suff together wth the rectory or parsonage of the towne of Chatisham and all lands meadowes pastures feedinge moores & marshes beinge percell of the demesnes of the said mannor by severall leases to them made by the provost for the tyme beinge & colledge aforesaid And about thirtie yeres since the sd orator was possessor of a lease of the premisses made to him by the provost & colledge aforesaid for dyvers yeres then to come and beinge so possessed by casualtie of fier the said mannor house barnes stables corne haye & other goods & chattells of his were burned & consumed in all to the value of the five hundred pounds to his utter undoinge wheruppon the sd orator beinge not able to rebuild the premisses as by covenante he was bounde to doe and being familiarly acquaynted wth one Willm Flacke longe since deceased who was a moneyed man did for the some of two hundred pounds or therabouts in mony to him paid by the said Willm Flack and for other considerations betweene them agreed uppon but not to the value of the said lease by two hundred pounds & more bargayne sell graunte assigne and sett over undto the said Willm Flack his said Indenture of lease of the of the premisses & terme of yeres therin then to come wch was itended & agreed uppon by & betwene them to be but for securitie for repayment of the said mony and such charges as he should be [att] in rebuildinge the premisses. And shortly after the said Willm Flack dyed and made Richard Flack his brother his executor who ever since hath helde & still holdeth & emoyeth the said mannor house of Chattisham & other the premisses by vertue of that lease and other leases made therof to him by the said provost & colledge since the death of his said brother Willm Flack.

The story goes on, and Barker refers to the relevant lease being one made by Richard, dated 20th March, 17th year of King James (1620), where he demised to Robert Barker certain lands within the manor: Puttock Down Mill, Mill Banks, 5 acres of close called Puttock Down, 1 acre of meadow called Mill meadow, parts of Little Oaks etc. Barker says this was partly in performance of the original "consideration" (price) his brother William agreed to pay, and partly to keep Barker contented. Flacke says that there were more recent contracts, and also that Barker had not kept the mill in good repair, leading to costs for Richard. It seems there were many contracts and understandings, with both parties oweing each other different payments or services.

In fact there had already been an earlier case. In 1621, Robert Barker sued Thomas Flacke, Richard Flacke, and John Allen of Nayland concerning this same property in Chattisham, Suffolk (

C 3/302/55

. Thomas apparently died between the two cases, in 1636. See below.) It seems from those claims that not long after the other contract, on 24 March 18th James (1620) Barker had actually demised the said properties to Thomas, but with the condition that Robert could keep earning the money from them unless he defaulted on the 32 pounds 8 pence he owed to Richard. When he defaulted, a new lease was made for Allen to take over. Robert complains that there had been an understanding that the particular payment he defaulted on need not be paid yet, and that the brothers are conspiring to ruin him and his family. So it seems that at some point Barker retook control of the Mill and associated lands but that conflict continued until at least 1644. So maybe he won that case in 1621.

Possibly all sides were somewhat short of the cash required in order to do both repairs and pay moneys as agreed. Finally of course, the landlord was Eaton College.




2. Richard Flacke

, of Chattisham, Suffolk

is the man whom Cambridge Alumni references such as Venn mention as the father of Samuel, and hence he is the earliest Flack known in my direct ancestry so far. His son Samuel was born about 1644, but apparently does not appear in the register. It was already 12 April 1619 that Richard Flacke surrendered the lease of William and started a new lease which now only had 19 years to go (so was apparently seen as a continuation?). We know William had died very recently. Maybe it was William's intention that Richard take this over, because he specifies moneys to be chanelled to his widow and children from the lands,

by his executor

.

Richard's wife in his will is Elizabeth. This is probably

Elizabeth Acton

, who according to Boyds Index married Richard Flack in 1621 in Ipswich

. The marriage license is

also online

, "

October 7, 1622. — Richard Flacke of Chattisham, single, and Elizabeth Acton of St. Peter's, Ipswich, at St. Peter's, Ipswich.

" On page 206 of the scan about Eton lands we see that at a court held on 14 October 1624, admitted Richard Flack and Elisabeth, his wife, to a croft and other lands (described) surrendered for their use by John Bennett, rent 8s. So possibly Richard was not (yet) living in the main house his brother left? From pages 190-1 of the above-mentioned

online scan

we can see that Richard also started a new lease under the college, of 5 acres called Pepper Whites Wood in the neighbouring parish of Hintlesham, 18 December 1625. The lease had previously been held by Edmund Thompson (who had problems with tenants who claimed not to be under the college, as would Richard's heir). In 1635-6 Richard was in the middle of a strange case legal case about the college lands, described on pages 234-5 of the scan.

Both leases were renewed on 6 Nov 1637 for 21 years, by Richard Flacke of Chattisham, gent. Because the renewal on the main lease happened at full term I consider it very likely that this is the same Richard, and not a son or heir. (Also we know that the wife's name was the same in 1624 and 1646.) At about the time of Samuel's birth, in 1644, Robert Barker sued Richard Flacke concerning a manor and rectory of Chattisham, Suffolk (

C 6/138/28

). So this shows the Flackes already involved in the business of rectories.

The will of Richard, made 13 July 1646 (IC/AA1/83/46) mentions

wife and executrix is

Elizabeth Acton

, who according to Boyds Index married Richard Flack in 1621 in Ipswich

. Supervisor is Mr William Redgrave of Rendlesham. Richard mentions that he had a lease on lands in Chattisham and Hintlesham, which he held from Eaton College Windsor, and these went to his son William.

There is an NCC will from Chattisham for the father of Elizabeth:

Acton, George, clothier, of Chattisham, Suffolk

1636 NCC will register Spendlove 27

.

It mentions his son Flacke in Chattisham. I can

see

from various histories that this George Acton in Ipswich was a businessman who was pursued by the Eastland company for infringeing its monopoly rights.

We can list the children adding information from online indexes concerning births and deaths.
Richard Flacke. Not mentioned in will but

From the Suffolk baptisms on Findmypast, we can see that Richard apparently had a son named Richard baptised 25 May 1625, and buried 24 June 1633

.

William Flacke.

Baptism 28 Aug 1628, oldest son in will and heir.

Marie (or Mary) Flacke

. Baptism 23 June 1636. Mentioned in father's will as a younger child under 21.

Hanna Flacke.

Baptism 26 Feb 1639, and mentioned in father's will as under 21.

Samuel Flacke.

Baptism 28 Sept 1643,

mentioned in father's will as a younger child under 21, and also later in his brother William's will.

Elizabeth Flacke.

Mentioned in father's will as under 21, and listed last so probably youngest. She is not the baptism 1 March 1626, because she was buried 4 March 1626. Another Elizabeth daughter of Richard and Elizabeth was buried 14 August 1643. So this Elizabeth must have been quite young in 1646, born after 1643.
3. Thomas Flacke
, as mentioned, was a third brother. In 1621, Robert Barker sued Thomas Flacke "and others" concerning property in Chattisham, Suffolk (
C 3/302/55
). As mentioned above that we know that the Barkers had held the lease before the Flackes. William would have been dead in 1621. Thomas was probably the burial of 2 May 1636 in Chattisham. The documents are complicated and long and will take time to analyse, but they certainly involve both Richard and Thomas, and the lease mentioned above which was made by Richard on the 20th of March in the 17th year of King James, so it only concerns part of the manor, with Mills etc.
It seems that after the first case, by an indenture of 24 March in the 18th year of King James, which would have been the first day of the regnal year which began in 1620, Robert Barker demised those properties on to Thomas the brother of Richard, who had the overall manor.
I continue with two of the children of Richard Flack. (For more about Richard's children see above.)
1. William Flacke, gent. of Chattisham
. Apparently the one baptised 28 August 1628 in Chattisham. Will of 1697 (IC/AA1/127/45). Son William gets lands leased from the Provost of Eaton College, and also "all those my lands meadowes & pastures wch I lately had & purchased of
my Brother Samuel Flacke of Sall in ye County of Norfolk clerk
" (thus proving we have the right family), except for Greenwood Gapp, or Greenway, which is to be kept for his wife Elizabeth. This man's family apparently remained in Chattisham during the 18th century, and they continued to use the name William for several generations. From page 181 of the above-mentioned
online scan
we know that William made a new lease on the main lands 17 August 1667 (30 years after the previous one), and from page 191 we know we had already made a new version of the second lease 10 Nov 1648. It seems he was called upon to report upon three tenants who claimed to owe no rent to the manor and wrote a letter September 1667 about this, which mentions that he resided in Ipwich (page 225-226 of the scan). A later letter to the college mentions up coming new leases to be sent, dated 19 Jan 1694 (page 227).
2. Samuel Flacke
, the younger brother, entered Pembroke college 1661. Died 1708. Born about 1644. I found the baptism in Chattisham 28 Sept 1643.
Alumni information
: Admitted pension (age 17) at Pembroke college, 18 May 1661.
Son of Richard. Born at Chattisham, Suffolk
. Matriculated 1661; B.A. 1664-5; M.A. 1668. Fellow, 1668-71. Ordained deacon in Peterborough, Sept. 20, 1668; ordained priest in Ely, Sept. 24, 1670.
Father of Richard
(1691-2).
Rector of Salle, Norfolk
, was intituted 9 December 1670 which finished 1708 after his death. His patrons for that were
Francis Earle
, widow of
Erasmus Earle
,
Martin Earle
, gentleman of Heydon (another transcription apparently has Francis Haile, widow of Martin Haile, gentleman of Raydon), and Jacob (or James) Long, of Swanisthrop.
The predecessor of Samuel in Salle was
Roger Howman
.
Vicar of Saxthorp
, 1671-1708. Died 1708. This was under the patronage of Pembroke college. His predecessor was
Francis Grigg
.
I have his will:
Flacke, Samuel, clerk, of Salle 1708 ANW, will register, 1707-1708, fo. 300
. The burial registration at Sall on 1st June 1708 can be seen on 60 of the
online scan
. The will was made 6 June 1705. It shows that he possessed a lease of property in Scottow, held from John Lord Bishop of Norwich, and also the perpetual
advowsons
of Congham St Marys and Congham St Andrews and Great Fransham. He had also purchased lands from Charles Spilman of Congham, Clerk. (The Spilmans or Spelmans were predecessors of his son Richard as rector at Congham, and well known old family in Norfolk.) He refers to his son as Richard Flacke of Great Fransham, Clerk (although he was already rector in Congham in 1706 it seems). Although he passes these advowsons to Richard he says the next time one of them needs to be used, Bridget should get the decision. (As far as I can see this would only happen if Richard died, because he was already holding all three.) Concerning who held the Great Fransham advowson immediately before him it is not easy to see: the previous rector before Richard had been Samuel Cushing, who had been long ago presented by
Sir Arthur Capell, Knt.
(Earl of Essex, and the son of a
royalist
) in 1660.
We know the first name of Samuel's wife was
Bridget
, but it was difficult to identify her maiden name, and a marriage record between her and Samuel has still not been found. I could find her burial in Salle, on page 63 of the
online scan
: "Bridget Flack widow was buried Nov ye 12th Affidavit before Mr Squire curate of Congham Nov ye 11th" in 1724. Bridget died after not only her husband, but also after her son Richard. The will is:
Flack, Bridget, widow of Samuel Flack, late rector of Salle, of King's Lynn 1724 NCC will register Lawrence 229
. She divided her estate half to her grandson Thomas Flack "of Congham" (where he would have been learning under Charles Foster the rector there), and one quarter each to her grandchildren Bridget and Samuel Flack. All 3 were not yet 21. The executor is Dorothy Foster, the wife of Charles Foster. (We know that in fact this is her daughter-in-law, who had been married to Richard, and had now re-married his successor. Dorothy's maiden name was Burlingham and I have created a
separate webpage
for her ancestry.) Bridgett also asks that "if ye Case will bear it I Desire a decent marble may be layd over my husband & my grave".
She asked to be buried in the chancel of the church of Salle
.
I have created a separate section below for discussion of Bridget's ancestry
. I shall explain that her maiden name was Lucy or Luce, and she was born in North Walsham to a schoolmaster and cleric.
1. Richard Flack
entered Pembroke college 1692. Born about 1675. The baptism 22 April 1675 can be found on page 24 of the
online scan
of the Sall register.
Alumni Information:
Admitted pension (age 16) at Pembroke college, 2 Mar 1691-2.
Son of Samuel (1661)
, Rector of Sall, Norfolk. Matric. 1692; B.A. 1695-6; M.A. 1699. Fellow, 1698-1704. Ord. deacon (Lincoln) June 4, 1699; priest, Dec. 24, 1699.
Rector of Great Fransham, Norfolk, 1703. He replaced Samuel Cushing and was presented by his own father Samuel.
Rector of Congham, 1706-15. He replaced Charles Spilman, and he was presented by his own father Samuel.

Buried Mar. 29, 1715. Father of Thomas (1726) and Samuel (1730)
. (Carthew, II. 180.)
The burial 25 Mar 1715 is marked in the Congham register with "Master of Clerks and late Fellow of Pembrook Hall Cambridge Died 22 Mar 1714/15" (FreeREG).
His probate information has no will but 2 files:
NCC administration bonds 1714-1715 no. 77, and DN/INV 71/272 1710-1715
. The admon shows that Dorothy Flack took administration responsibilites, and that Richard died intestate. She is living in Congham. Her bondsman is Thomas Burlingham of Holt. (The messy Latin also mentions a connection to Congham for him.) I also have a copy of the inventory. His inventory was signed off by Henry Tofts and Roger Turk (both with nice hand writing) and Henry Mendham and Francis Goldsmith (scratchy X marks).
His wife was
Dorothy
Burlingham

.
Richard and Dorothy married in his father's parish of Sall 22 Apr 1708, as could be traced first using familysearch, which also gives a link to a scan of the Bishop's transcript. She later married Richard's replacement as rector,
Charles Foster
, 3 Apr 1716 in Holt. But Foster was not from Holt, and at this time neither were the Flacks. Dorothy's own family had a connection to the area (the same area her son Thomas would work). The register informs us that she is the only daughter of
Thomas Burlingham
, rector of Holt
, and in fact the ceremony took place in Thornage itself, with Thomas presiding. There is much more we can say about the Burlinghams, so I have made a new
webpage for the ancestry of Dorothy Burlingham
, which can be traced back into the Middle Ages. That is also where I discuss the will of her father for example.
Charles was buried at Holt, 1 Mar 1718/19. Dorothy then presented
Benjamin Squire
to the job, who was in turn replaced by his own son,
Charles Squire
. Before then Charles had been worked as a school master in Great Massingham, where his father was also rector. Later he became school master in the grammar school in Kings Lynn. Dorothy and Charles had three children baptised in Congham, two of whom,
Michael Foster
(baptised 4 Jan 1716/17) and
Dorothy Foster
(baptised 22 Jan 1720/21) lived to be mentioned in the wills of their mother and Thomas Burlingham their grandfather. A third child Charles Foster was baptised 26 Apr 1718, and then buried 1 Mar 1718/19 (1719 in modern terms, so he did not live to one year old). Michael did not live so much longer than his mother, buried 2 Aug 1735.

Dorothy Foster
was buried 23 Oct 1731 in Congham St Andrew, by which time Charles Squire had married her daughter Bridget Flack. Her will:
Foster, Dorothy, of Congham 1732 ANW, will register, 1732-1733, fo. 5, no. 4
. It appears to be self made, and shows she was a fast, casual writer, not a lawyer. It is charming to read because it is pleasant to hear someone through the centuries. She desired her body to be buried in the chancel at Congham "where it will be most conveniant either by my [inserted: Dear husband] Flack or [inserted: D husband] Fosters grave or at Holt or neere there by dear Fathers grave the place where he was buryed is mentioned in his will". In the event it seems she was buried in Congham with husband Foster.
She refers to her loved ones in a familiar shorthand. At one point she calls her son, who is assigned as executor, "Tommy Flack". Everything she received from her Father Foster (presumably the father of Charles) is to go to her son Michaell Foster, "lying in Watchfield and Feltham" (I am not sure if this is where Michaell lives, or where the estate is), but he should pay a defined amount to his sister Dorothy Foster (who is still single) "paying first what is due to Mr Woolf and my brother Medley and his children". She seems to have owned quite a few diamonds, and valuable things of that nature, which she lists and specifies destinations for. She specifically mentions that her son Thomas Flack should return the pair of silver buckles he was keeping, because these are for Michaell. It seems she was listing things that were seen as being from the Foster family. Turning to Thomas, she wants him to lay "a grave stones if not dun by me in my lifetime upon all his disposed friends here mentioned My husband Flack my husband Foster my Father Burlingham and mother Flack". (It had been her responsibility as executor for her mother-in-law to lay a "decent marble", if possible, over the bodies of Samuel and Bridget Flack in Salle.) And Thomas should add to the legacies which already exist for his siblings, "Sammiwell" and Bridget Flack, making them 500 pound apiece, paying them 5% per annum "till they shall have occation to desire the principall". Her executors are Thomas and Dr Shouldham. Concerning her Shouldham relatives, please
see the webpage about Dorothy's ancestry
, mentioned above. As with many of these wills, she left money to the poor in parishes where she had a connection. These were Thornage, Congham, Scottow, Watchfield and Feltham. Her witness were Charles Barnwell, Wllen Mays and Elizabeth Sutton. The two ladies signed with a mark.
It is very interesting to compare to the will of her father, of 1721, which I discuss on the
webpage about her ancestry
, in the Burlingham section. It also mentions her children the Flacks and Fosters.
His children's baptisms from the Congham register:
10 Aug 1709,

Thomas Flack

entered Caius college 1727. His family is discussed in detail above. He died: 28 Oct 1780. Born about 1709. Alumni Information (but see expanded information above): Admitted pension (age 17) at Gonville and Caius college, 1 June 1726. Son of Richard (1691-2), Rector of Congham St Ann, Norfolk. Born there. School was at Darsingham, Norfolk (private). Scholar, 1726-30; Matriculated 1727; B.A. 1730. Ordained deacon (Norwich) 25 Sept 1748, as Curate of Hindringham; priest, 21 May 1749, as Curate of Briningham. Rector of Waterden, Norfolk, 1750-80; of Twyford, 1779-80. Died 28 Oct. 1780. M.I. at Briningham (see photo above).

Brother of Samuel

(1730). (Venn, II. 25.) As discussed above, he married

Anne Wrench

.

NOTE: I have moved discussion of Anne Wrench's ancestry to a separate webpage.


19 Jan 1710/11,

Bridget Flack

, married

Charles Squire

10 Sep 1730 in Congham, after he became rector there. (On FreeREG the At transcription says she is a spinster, but the Tr transcription says she is a widow; but we can trace her age at death). There appear to be two wills for him on record:

Squire, Charles, clerk, of Massingham 1731 ANW, will register, 1730-1731, fo. 220, no. 68 and Squire, Charles, clerk, of Congham ANW, will register, 1752-1753, fo. 262 (1752 no. 96)

. The burial of Charles Squire was 22 Aug 1752, at Congham. The remark in the register says "The Reverend - Rector of this parish - late master of Lynn Regis". Squire's replacement, presented by his widow Bridget Squire, was

Edmund Nelson

. (The first cousin of this cleric had the same name, and was also a cleric, but his son went on to become possibly the most famous person ever from Norfolk, Admiral Horatio Nelson.) Bridget then married Edmund, 2 Jan 1755. Bridget died 20 Nov 1779, aged 69, meaning she was born about 1710, perfectly matching the sister of our Thomas Flack. The register makes it clear that Bridget was the widow of Edmund Nelson, "Rector of this parish" and says she was buried from Lynn. The will for Edmund Nelson, clerk of Congham, was in 1795

ANW, will register, 1794-1795, (1795) fo. 116, no. 82

. (I wonder if our Ann Barnes knew about the connection her mother's family had to the admiral's.) Edmund Nelson re-married to

Elizabeth Forster Rose

, with whom he had children.

28 Mar 1712, Dorothy Flack. Buried 16 Dec 1712. (According to FreeREG the At transcription had 16 January 1712/13.)

12 Dec 1713,

Samuel Flack

entered Caius college 1731. Born about 1714. Alumni Information: Admitted pension (age 16) at Gonville and Caius college, 17 Apr 1730. Son of Richard (1691-2), late Rate of Congham St Ann, Norfolk. Born there. School was at Lynn. Matriculated 1731; B.A. 1734-5.

Brother of Thomas

(1726). (Venn, II. 32.). The neater Gonville and Caius format is here. It tells us that he was educated "at his mother's house, two years, under Mr Foster; at Sandringham (private school), one year, under Mr Rogers; at Congham (private), five years, under Mr Squire; and for six months at Lynn grammar school, under the same Mr Squire." Mr Squire was also his tutor in 1730 when he was admitted as pensioner at age 16. He was a scholar from Michaelmas 1730 until Lady Day 1735, but then we see nothing more in such histories about him. He does not appear to have done much as a cleric, but the English Clergy database lists him as having been curate, probably an assistant to a parish priest, of Strumpshaw and Bradeston 20 September 1736. I presume he must have died reasonably young, but not (it seems) before having a child. There is an obvious marriage for him,

Samuel Flack of Lingwood

married

Lidia Church

in Yarmouth St Nicholas 12th May 1737, both being previously unmarried. There is a burial for "The Revd Mr Samuel Flack from Fleet Ditch", 22 May 1739 in St George, Bloomsbury in London. Could that be him?


Samuel Flack

, born about 1736, and referred to by Thomas Flack as his nephew. I have not found any baptism. We have already discussed him above, because he married Mary Flack, daughter of Thomas, as a second wife, later in life. At first he married

Elizabeth Clark

, 9 Apr 1765 in Blofield, which is near Strumpshaw and Lingwood. They were still in Blofield 12 Jul 1766 for the baptism of

Ann Flack

, who was buried 9 Nov 1766. 15 Feb 1778 they were in nearby Bramerton for the baptism of

Elizabeth Flacke

(who married

John Howard

in Filby, 14 Jul 1786. They were already in Filby by 1783 when their newborn daughter Lydia Flacke was buried there. Elizabeth née Clark died and was buried in Filby 27 Oct 1793, and then 17 Feb 1794 Samuel re-married to his first cousin Mary in Thornage. As discussed above, this couple moved to Hindolveston some time between 1798 (for the land redemption tax of 1798 they were still in Filby) and 1802 (for the listing of electors at that time). We can see that he had land in Yarmouth, both because the election rolls mention it, and also because the NRO holds a document BR 74/8 where he is involved in a deed of 1808 with a trustee of a Robert Walpole. It is striking that he signed documents later in life with a mark. Signing with a mark could of course just be a convenience, but probably not one common in a family with so many Cambridge graduates and school masters. As mentioned above, he died 1820.


16 Jun 1715, Ellen Flack. The register states that the father had died in the meantime. Her burial is also registered in Congham, 19 Nov 1716.
We can see that there was a small world of clerical families who inter-married quite often. In the 18th century the Squires and Nelsons were part of this world, as were our Flackes and Wrenches.


Earlier Flacks?
Going back to the origins of this family, they appear to have arrived in Chattisham from elsewhere around 1600, and obviously had some wealth and connections. In particular Robert Barker says that the oldest brother William was an acquaintance of him and a moneyed man. The obvious implication is that he lived in the area where Barker lived, meaning around Ipswich, or else he knew Barker through other connections.

Investigation shows this to be no surprise as there seems to be a concentration of Flack families in the corner of Essex, Cambridge and Suffolk, not far so far from the Ipswich area. But it seems notable that this family was "moneyed" and yet we hear of no other lands they owned or held apart from these ones, implying they were not from an old fashioned landed family of the country side. The three obvious alternative ways to be wealthy would be the clergy, the business and trades people of the cities such as Ispwich, or possibly even government connections. (Since Henry VII, government officials often did not come from the wealthiest classes, but they often entered the wealthier classes as a result of their career, buying up land in order to establish their family.)

It is possible this Flack(e) family had an earlier connection to clerical work in East Anglia, and possibly even in Norfolk. Perhaps by coincidence, in Congham, where our Flackes were for one generation, there had been a Thomas and Bridget Flacke in the early to mid 1600s having children. But I see no reason to suspect that this Thomas was a cleric.

25 Jul 1622, Thomas Flacke married Bridget Buttrill in Congham.

12 Oct 1623, Martha Flack(e), daughter of Thomas, baptised in Congham
5 Feb 1625/26, Margret Flacke, daughter of Thomas, baptised in Congham
6 Dec 1629, Bridgitt Flacke, daughter of Thomas, baptised in Congham. 15 Jan 1640/41, Bridgett, daughter of Thomas and Bridgett, buried in Congham.
19 Jul 1632, Thomas Flacke buried in Congham.
1 Dec 1632, Thomas Bride married Bridget Flack, Widow, in Congham


There is also a burial in Congham 30 Jul 1633 for a Georg Flack, with no description of relations. For the time being I am assuming no connection. It should be kept in mind that Congham is not far from the port city of King's Lynn.

There are also more Flackes among the lists of Cambridge alumni, going back to the 1500s, and several seem to be from the East Anglian area.

William Flacke. Adm. sizar (age 17) at CAIUS, Mar. 27, 1579. Of Mellis, Suffolk. S. of Walter, husbandman. Schools, Eye and Botesdale. Matric. 1579. Afterwards a Jesuit priest. Entered Douay, Feb. 22, 1581-2. Received minor orders from the Archbishop of Rheims. Entered the English College at Rome, Oct. 20, 1584. Ord. deacon and priest at Valladolid, 1591. Rector of St Omer two years and Ghent three years. Died at St Omer, Dec. 13, 1637. (Venn, I. 201.) [So he was a Catholic and moved to the Continent.]
William Flacke. B.A. from CLARE, 1588-9.
William Flack. Adm. sizar at QUEENS', Apr. 9, 1595. Of Suffolk. Matric. c. 1595; B.A. 1599-1600; M.A. 1603. Perhaps V. of West Wratting, Cambs., 1615. The online English clergy database has him ordained as deacon 6/9/1601 and ordained as priest 29/9/1604 in Downham, by Bishop Martin Heton of Ely. [This one seems particularly relevant to us. Samuel was also ordained as priest in Ely.]
Robert Flack. Adm. at CORPUS CHRISTI, 1598. Of Suffolk.
William Flack. Adm. pens. at JESUS, Sept. 6, 1645. Of Suffolk. Matric. 1645-6.
George Flack. Adm. pens. (age 16) at PETERHOUSE, Sept. 17, 1675. Of Essex. S. of Thomas, of West Wickham, Cambs. School, Merchant Taylors'. Matric. 1675; Scholar, 1675. Attendant at Gray's Inn. Barrister, 1686. Brother of Thomas (1682-3). (Vis. of Cambs., 1684.)
Robert Flack. Adm. pens. (age 17) at PETERHOUSE, July 2, 1678. Of Cambridgeshire. S. of Thomas, of West Wickham, Cambs. School, Hertford. Scholar, 1678. Died in College, July 2, 1679. M.I. at Linton. (Le Neve, Mon., IV, 195.)
Thomas Flack. Adm. pens. (age 17) at PETERHOUSE, Mar. 21, 1682-3. Of Cambridgeshire. S. of Thomas, of West Wickham, Cambs. School, St Paul's. Died July 3, 1683. Brother of George (1675).
The Eton records

perhaps

give a lead on the name of a relative of these brothers. On page 198, in records of the court rolls, we see that under 13 September 1611: "

Curia Baronia Henrici Savile, militis, prepositi, coram magistro Savile, bursario, per

Antonium Flicke

, genorosum, subsenescallum.

" Sir Henry Saville, provost (and very well-known even today) is in many of the college's documents representing them. (It is interesting to note that he is an ancestor of the Sedleys who later married into the Barwell family in Norwich.) But who is Anthony Flicke, gentleman and "sub-seneschal" in the court? Robert Barker had been called bailiff of the college in earlier courts, so men with local interests were involved in them. Bailiff and seneschal are both words which mean something like an estate manager in a context like this, and that seems to be part of what the Flackes became here, but Anthony Flicke's management seems to have covered lots of estates. Might the Flackes have had connections in the college? But I am not sure that we can ignore the spelling difference in these surnames, given that the Chattisham Flackes seem to have spelt their name consistently. It is however notable that both our Flackes and Anthony Flicke seem to have had some sort of connection with Ipswich, which is very near to Chattisham.

In another Eton related document Anthony Flick appears as under steward again in a baronial court again, but this time in 1617 in Wretham in Norfolk, another Eton property.
There is a marriage license: December 4, 1622. — Anthony Flicke of Needham and Mary Brocke of Southwold, both single, at Southwold. (Book 5, fo. 20)
There is a will for a yeoman named Anthony Flick, of Earl Stonham, 1639. W77/2/53a.
There is a will for a gentleman of the same name Needham Market 1660. A4/2/80
Several documents in the National Archives, such as E 115/145/145, mention an Anthony Flicke who was in 1625 to be taxed in Suffolk, whereas he had been previously taxed in Ipswich.
C 3/443/41 is a case of Nathaniel Flicke cleric versus Anthony Flicke, involving "money matters in Suffolk" in the period 1642-1660.
C 6/139/55 has an Anthony Flick as a defendent in a case involving property in Stowmarket, Suffolk.
Apart from the Suffolk group with the connection to Chattisham, there was clearly a Cambridgeshire Flack(e) family, in the corner of the county towards Suffolk and Essex. In the early 1700s John, Ann and Robert Flacke had PCC wills proved in Linton, in Cambridgeshire, near the county border. A Thomas Flacke senior had a PCC proved in 1615, who was a husbandman of Castle Camps quite close to Linton (property at Stansfeild, probably the one in Suffolk, wife Sisley, son Thomas, daughter Rachell, son Jeffery, another daughter Elizabeth Sparrowe). Still earlier, in the 1500s, a Robert Flacke sued a Richard Flacke regarding a property in Castle Camps, Cambridgeshire (C 3/65/5).


The ancestry of Bridget Lucy, the wife of Samuel Flack
There is a clear pattern in this family and related ones, of marriages between families with a clerical background, and land ownerships in the regions where they settled. Samuel himself was not even from Norfolk originally, and so when looking for his wife's family, it seems obvious to look at the land owning and clerical families which he came into contact with. A few ideas come to mind immediately. The will of Samuel gave the best lead. Samuel reserved one thing for Bridget and her heirs rather than his son (who was the living heir of both of them). Such wording looks like a sign that it came from the wife's family. The will is explaining what happens if Richard their son would die, and it sounds like this particular possession would go to Bridget's closest relatives, not Samuel's. In this case the wording was used concerning the "Scottow lease" held of John Lord Bishop in Norwich. In other words, like his family back in Chattisham, Samuel "farmed" a lease on a rectory with an absentee landlord, in this case the Bishopric rather than Eton college. There is a series of documents held in Norfolk in Bishopric Estate records under the title of "Scottow & Little Hautbois Rectories". The leases seem to have normally been about 7 or 8 years each time.
It appears as if responsibilty for this lease was sold off by Thomas Flack after his mother's death, to the Durrants who were already lords of the manor in Scottow. (As described above, his money troubles probably led to him selling many family assets off.) The Durrants were still holding both manor and rectory in the 19th century. As noted above, Bridget was daughter of Henry and Bridget Lucy. I only found that evidence after I was already almost certain, because I had found many other details:
Henry Luce or Lucy or Lacy could also be traced as a cleric. On the English Clergy database we find him, and his surname variations include Luce and Lucy. He was rector in Oxnead, Schoolmaster in North Walsham (grammar), and vicar in Buxton. There is a note: "Originall he was admitted as a public preacher to theparish of Oxned by the commissioners. He continued as rector of the parish after the restoration and was licensed to teach grammar in the Free School at North Walsham in 1662. This entry is under Oxned." His patron in Oxnead was William Paston, bart. That would be the baronet of Oxnead, and sometime high sheriff of Norfolk, father of Robert Paston, 1st Earl of Yarmouth. Henry Luce is listed as a headmaster at Paston School in North Walsham, 1648-1666. He had been usher at Gresham's school in Holt, 1639-1640. Henry came from Norfolk, matriculated sizar from Queens' college in Cambridge, Easter 1637, did his B.A. 1640-1, and was ordained deacon in Peterborough December 18, 1641. Peterborough is also where Samuel Flacke was later ordained, and several family contacts of the Burlinghams (as discussed on the Burlingham webpage). It implies a possible link to the royalist Bishop there,

John Towers

, who was himself originally from Norfolk, and is also an ancestor. Henry was ordained priest in Norwich, Feb. 25, 1642-3. He was still alive 1663 when he was a witness against Henry Scarborough of North Walsham for causing trouble at the church (NRO document MC 2840, 1012X9). He was clearly dead by sometime in 1666 when his wife was a widow, and given that he was also headmaster until that year it seems likely he died in 1666. The clergy records include one saying he was dead 9 December 1669, but this usually indicates a date much later than the actual death. I have not found a will or burial. I have found the probable marriage in Heigham St Batholomew, a suburb of Norwich outside its original limits, 18 May 1648,

Mr Henry Luce

married

Miss Bridgett Pitts

.

The link to the Scottow lease also pointed to the same Henry and Bridget, and also in turn to the Pitts family.
Now that I have a copy of both these last two, I see that they both mention Henry Lucy, clerk, as a defendent. Both

Lyonell Pitts

and Henry Luce are said to be of North Walsham. (The Pitts family seems to be quite mobile in terms of residency.) It seems Le Gros had a claim within Scottow and Hautbois lands, via his ancestor Charles Cornwallis, but it was now claimed by Pitts and Luce. Sir Charles Cornwallis had been returned for Norfolk in 1604, and is also mentioned in the defense by Pitts and Lucy (see below). C 5/53/56 shows that the post restoration bishop agreed with Pitts and Lucy that 6 October 1664, he had signed over to Henry Luce a 21 year lease, and he saw no grounds for any claim against that. In return for several yearly rents Luce had "All that the Parsonage & Rectory of Scottowe [...] the Tythe cornes & graines of all manner of kindes the tythe barne & [litle?] yard called the barne yard nigh adjoining to the said barne containinge by estimation one roode and all other profitts and comodities belongeing to the said Rectory or Parsonage of Scottowe Except and always reserved unto the said Reverend father in god & his successors the Advowson nomination and right of Collation of and to the vicarage of Scottow". And also the under this deal the Bishop did "thereby further lease sett & to farme let unto the said Henry Lucy his executors administrators and asignes All those his mannors of Scottow & Little Haughtboyes with the appurtenencs". Other documents make it clear that the lease had previously been held by Pitts, but then sold to Luce, presumably in connection with his marriage to Bridget although the marriage is not mentioned. We see here that Lionel held the manor of Hautbois and Scottow in 1641. Before Lionel, the documents make it clear that the lease had been held by the father of Lyonell Pitts,

Jonas Pitts

.

So Samuel Flacke married

Bridget Luce

, born in 1652 in North Walsham. Her father would have died when she was relatively young, probably 1666, before she was married; her mother's father died soon after in 1670; her probable husband Samuel had been born in 1643, and was probably not in Norfolk until about 1670; and her probable son Richard was born about 1675. The Luce family is surprisingly hard to track so far despite the unusual surname. Looking at parish registers, the name has some presence in this time in the area around Scottow, but it has very big spelling variations: Luse, Luce, Lucy, Lacye, Lacy, Lucye etc. One aim I have is to find a burial and will for Henry, or a will for Bridget his wife, but I have not succeeded. Maybe there are more records related to the lease.

There was an old Lacye or Lucy family in Walsham a long time earlier. The spelling Luce also seems to have particular links to Salle, which might well relate to the same family, as the distance between the places is not extreme. For example WHT 1/209, of 4 Oct 1377, has a Robert Luce involved in a land grant in Salle, and in the same period, PET 12, 96X5 of 21 Oct 1367, and PET 17, 96X5 of 13 Jul 1383 show a Robert Luce living in Westwick (near North Walsham).

In the 15th century there were also two chaplains in Salle, during the time it was apparently being improved, both named Robert Luce or Lucy, apparently father and son. The Norfolk churchs website even names the Luces as one of the families who were responsible for the building of such an impressive rural church in Salle, and that the font has "dedicatory inscription to John and Agnes Luce, asking for prayers for their souls. We know that John died in 1489." So like the Howmans they maybe had deep roots in Salle (actually probably much deeper).

By the way, it is very rewarding to look up reviews of the church in Salle, and it helps explain the repeated importance that several families discussed on this webpage placed upon being buried there. Here is an article calling it "Norfolk's finest church". It mentions the font again, saying "an inscription survives on the step, asking prayers for Thomas Luce and his wife and their son Robert, chaplain. Robert Luce died in 1456, while the church was being ornamented." (The font and the early Salle Luce connection is discussed here).

The earliest record I find of Luces in Salle so far is 4 Oct 1377: WHT 1/209. But today they are mainly remembered for that font there, which was 200 years too early for Bridget. For the time being I can not find the origins of Henry Luce, so I can not prove a link back to the earlier Luces.

With so few leads in the period where we really need them, it is perhaps worth noting this will:

Lucy, John, of Briston 1678-1679 ANW, will register, 1678-1679, fo. 9

. John seems to have been a weaver, from what I can read, and his wife and executrix was Christian Lucye.


The Pitts family of Wicklewood
In the time of James I, there is

C 2/JasI/H24/40

, "Hunt v Pitts" involving Lyonell and Jonas in a case concerning marriage settlement respecting the manor of Thurninge. It seems Lyonell's father-in-law

John Hunt, doctor of laws

, claimed he was tricked by Lyonell and his father Jonas, claiming that he would never have approved the marriage under the conditions in the contract he signed, but he thought the terms different than agreed. Also there are documents in NRO,

19 Feb 1620 MS 15931, 38A2

; and

9 Jun 1623 MS 15935, 38A2

, both with the same description: Writ of execution decreed in case between Jonas Pitts of Wicklewood, gent., and Lionel Pitts, his son and heir, on behalf of selves and Ursula, wife of Lionel, and of John Pitts, Dorothy Pitts and

Bridget Pitts

, children of Lionel and Ursula, against John Hunt, doctor at Law, and William, his son. Both concern a £30 annuity. A rather final looking summary of the whole case is the "decree roll" C78/306, which is scanned online starting here, which makes clear that while Thurning was Hunt's contribution to the married couple, Pitts had granted the manor and rectory of Scottowe and manors of Fenhall, Stubbs and Gurneys, Norfolk. Jonas and Lyonell won the case it seems, although at this stage their possession would not have passed to their heirs. We can confirm here that the wife of Lyonell, was Ursula daughter of John Hunt of Thurning, and that John Hunt's wife

Elizabeth

had actually granted the manor and advowson of Thurning to Lyonell and Ursula 9 July 1634, after the death of her husband, while she was acting as executrix. (But see below concerning the contents of his will.) There is also a certificate of residence of 1642 showing Lionel changed from being taxable in Norwich to Norfolk. In Norfolk, NRS 26206, 143X5 is an Indenture: Lease for 7 years. (1) Lionell Pitts of Wacton, gent. (2) Gregory Rosie of Briston, yeoman. Date 10 Jun 1656 Description. Land in Thurning. That the Pitts took over the manor, and it eventually went to their heir John, is confirmed by Blomefield in his history. A lease held at Lambeth Palace Library was as early as 23 October1657: Scottow, Norfolk; Counterpart lease of the tithes, except the glebe, of Scottow, formerly in the possession of the Bishop of Norwich COMM/11C/71 23 Oct 1657. To Lionel Pitt gent, of Wacton. Term 6 years, rent £60 p.a. So it seems clear that Lionell was resident in Wacton around 1656 and 1657.

As shown in several catalogue entries in Norfolk, the manor of Thurning included property in in Thurning, Wood Dalling, Hindolveston, Guestwick, Melton Constable, Briston and Saxthorpe. Hunt had purchased it from Robert Earl of Sussex Viscount Fitzwaters (or Fitzwalter), who was a member of the Radclyffe family.

The legal cases surrounding Thurning make it clear that Symon Pitts was the name of the brother of Jonas.

Concerning the children of Lyonell and Ursula, named above as John, Dorothy and Bridget, the 1664 visitation of Norfolk shows Lionell Pitts of Wicklewood had a daughter Dorothy who married Thomas Gooch of Hoo in 1639 and then died in 1641. Her baptism was Wicklewood, 18 Jun 1617. Her parents Lionel and Ursula also

married in Wicklewood, 16 Jul 1616

. Blomefield mentions that Lionell's son John took over Thurning and later sold it to Erasmus Earle, and he says that John's wife was Ursula Thorisby. In a later record it seems John Pitt's wife was Bridget instead of Ursula. See

NRS 25725 I, 141X3 "Thomas Stone, gent., attorney in court of chancery, plaintiff. John Pitts, clerk, and Brigit, his wife, deforciants." (1663-1664)

, which appears to concern this manor. John seems to have had a second marriage, as shown here:

19th January, 1653, 4th Car. II. Indenture between John Pitts of Disse market, gent., on th'one pt., and Roger Thornton of Snaylewell, Esq., and Richard Howlet of the same towne; clerke, on th'other pt. … a marriage ... to be had … between him, the sd. John Pitts, widdower, sonne and heyre apparent of Lyonell Pitts . . . and Bridget Bendish of Snaylewell .... single woman, daughter and coheyre of William Bendish, late of Elmested . . . gent., dec

. But another record in the NRO seems to indicate that this John's first wife might have been named Mary.



Jonas Pitts of Wicklewood has a PCC will of 1632

, which mentions lands in Wicklewood, Deopham, Scottow (houlden by copye of court roule of the mannor of marton), Bawdeswell (including a tenement called Symsewarde), Foxley, Swanton (I presume Swanton Morley) and Bylaugh. His wife is

Suzanne

and she is soul executrix (but then I wonder if this is a second wife, because his first wife Susan seems to have been buried 1 Oct 1622 in Wicklewood). His main heir is his son

Lyonell

who is married to Ursula, and they have children. Another son Thomas had died already but left a wife Elizabeth, now the wife of John Cowper of Attleburrowe and a son Jonas Pitts (baptism in Attleborough 23 February 1617) and daughter Anne, grandchildren to this Jonas. Other children of Jonas the grandfather were William, Simon, Dorothy and Nicholas. Jonas also owned the advowsons of East Harling and Hockering, which he wanted his executrix to offer for 100 marks to son-in-law Mr William Benet. The Worshipfull Mr Charles Lovell and his brother Mr William Lovell have some type of agreement about with him about these advowsons; and also concerning his stewardship of the half hundred of Shropham, currently being managed by a Mr Corke. Jonas has a brother Simon, and a nephew Francis Firmage (both mentioned in the cases involving Scottow). Jonas did not want any foolish ceremonies or public sermons for his burial. He hopes his good friend

Mr Cowell

might do a sermon just for family and friends. I presume this might be John Cowell, appointed as a schoolmaster to teach writing, 2 July 1667 in Norwich. Here are baptisms from Wicklewood:
Probably then the baptism of Jonas must be the one in the following sequence:

Back in the Norwich Records Office, MS 18523, 81X3 involves an enfeoffment done by Jonas Pyttes of

Fincham

, yeoman, of half a messuage and croft in Deopham (near Wicklewood). In general we can say Jonas, the father of Lyonell, was an important man in Norfolk in his time. He was associated, it seems, with Sir Charles Cornwallis (the ancestor of Le Gros) and was receiver for Norfolk and Huntingdon, and he had correspondence with Nathaniel Bacon of Stiffkey. Cornwallis and Bacon apparently played a role in the legal case Pitts pursued against Dr Hunt (below), with the Pitts saying that "in regard of his place he beinge one of the masters of chancery extraordinary they the complts were loath to sue the said doctor hunt at the comon lawe uppon his said bond and therefore in Easter Terme before bill exhibited they petitioned the late lord chauncellor of England for remedie of their said greivances who was pleased to referre them the same unto Sir Charles Cormwallis knight and Sir Nathaniel Bacon knight". Cornwallis was ambassador to Spain, the first after a re-establishment of diploacy. Jonas was a contact point for Corwallis back in England , and is mentioned in Spanish diplomatic correspondence, perhaps implying he was a catholic sympathizer like some of his patrons. If, as it seems, he became surveyor of Norfolk, this must have been useful in legal disputes like the one in Scottow. His correspondence also seems to associate him with the Earl of Salisbury, which would have meant one of the Cecil family. It seems that the Hunts and Pitts were hangers on of some of the same types of "connections" in London politics.

There is a burial for

Lionel Pitts, gentleman, 21 Jan 1670/71 in Reepham

, very close to Salle, and also to Bawdeswell, Foxley, Swanton and Bylaugh where his father had owned land. This must be approximately when Samuel Flack and Bridget Luce married, but I do not find that marriage in the Reepham register either. Also I find no will for Lionel. (Note that a cleric named John Pitts was noted as curate at Reepham in 1677, and the rector had been Henry Pitts since about 1675. According to Venn and the clergy website Henry Pitts was school master of Walsingham and this means he had a PCC will proved 1681. This mentions children John, Henry and Elizabeth, wife Willoughby, who has brothers Thomas and Charles Robetham (a gent and a cleric of "Reifla"), and brothers Richard Pitte, and Arthur Haslewood of Norwich. The clergy histories say Henry is from London. And John may be this Henry's son. But it is hard to ignore the following burials in Reepham, based on FreeREG transcriptions: 9 Mar 1677, Bridget wife of John Pith; 1 Sep 1694, Bridget Pett?/Pith; John 19 Feb 1688/89 with a note "Rector of Hackford. Was buried by his wife in my chancell Febr. 19. 1688. The Affidavit was brought Febr 25". There are two Hackfords, one near Reepham and one near Wicklewood.)

The Pitts family clearly had a connection to the area around Deopham, Wicklewood, Hingham and Hackford, going back some and there are many wills of interest, including:

Pitts (Pyttes, Pyttys), John, of Depham, St Andrew 1457 NCC will register Brosyard 45

Pitts, Richard, of Morley 1490 ANF will register (liber 1) 1484-1493 fo. 126

Pitt (Pyttes), Richard, of Hackford 1546 ANF will register Liber 12 (Hynde) fo. 45.

This one mentions his son Thomas and his wife Alice. He is a farmer on copyhold land and he leaves his plowing equipment to Thomas and asks his wife to help him find seed. One of his witnesses is a George Pitt.

Pitts (Pyttes), Thomas, of Hackford Mary 1580-1581 ANF will register Liber 27 (Porridge) fo. 115

. Son is Edmund who gets the house in Hackford. Daughter and executrix is Anne Pytts. John is brother should help Anne. One of the two witnesses is John Pytts the elder.


Pitte, Thomas, of Wicklewood, Norfolk 1581 NCC administration act book 1579-1581, fo. 64.




P

itts (Pyttes), William, of Deopham

1581 ANF will register Liber 27 (Porridge) fo. 135.

It is interesting that he bought land from someone named Adam Loose or Lose (who had a brother Andrew). He also mentions sons Simonde (not yet 23), George, and Jonas (note yet 21, at one point he seems to call him James Jonas). He also had a daughter Agnes, wife Alce, daughter Margarett, daughter Elizabeth (note yet 25), brother Thomas Pytts (still alive), neve Barthoolmew Pytts.

Pitts, Thomas, of Wicklewood 1586 NCC will register Jarnigo 203

Pitts (Pyttes), Alice, of Wicklewood, widow

1589 ANF will register Liber 30 (Carter) fo. 89.

Names sons Simonde and George, daughter Agnes Pytte, daughter Elizabeth the wife of Thomas Fuller (who has 3 children), the late father of her children William Pytte, Suzanne the wife of her son Jonas Pytte, nephew Bartholomew Pytte.

Pyttes, Anne, of Wicklewood 1604-1606 ANF will register Carre fo. 392

Pyttes, William, of Wicklewood 1614

ANF administration act book 1611-1619 fo. 50
Quite early records from the area are:
C 1/56/73 "Pyttes v Tompson." Plaintiffs: Nicholas, son and heir of Thomas Pyttes. Defendants: William Tompson, of Depeham, sawyer, and John Davy, of Wyndham, draper, feoffees to uses. Subject: Messuage and land in Deopham (Depeham) and Wicklewood (Wikelled). Date: 1475-1480, or 1483-1485.
C 1/54/377 "Pyttes v Davy." Plaintiffs: Nicholas, son and heir of Thomas, son of John Pyttes. Defendants: John Davy, feoffee to uses, and William Tomson. Subject: Messuage in Depeham, in Wicklewood (Wikelled) parish. Norfolk. Date: 1475-1480, or 1483-1485
There is also a Norfolk record MS 15190, 37B7. Letter to Charles Cornwallis at Carrow Abbey from James Pyttes. Concerning affairs at Kilverstone.


The Hunt family, and the Caesar family
Above we have seen that Ursula Hunt, daughter of John Hunt, doctor of laws, married Lyonell Pitts.

Elizabeth, the wife of John Hunt, was the sister of the improbably named Sir Julius Caesar, a well-known stateman and judge. His memory, and that of his family, is preserved to some extent because of the attentions of his respected 19th century biographer, Edmund Lodge, who made it noting the paradox that it "ïs a very remarkable, though perhaps wholly unnoticed fact, that strict rectitude of conduct is generally an impediment to lasting fame". Sir Julius Caesar has both a Wikipedia article and an article in the Oxford Dictionary of National Biography. (There is also an older Oxford biography.)

Her parents are therefore easy to identify, at least by name. Her father was an Italian physician named

Cesare Adelmare (or Dalmarius)

, who had studied at the University in Padua, come to England in 1550, and became doctor to both Queen Mary and Queen Elizabeth, as well as one of the originators of England's first "plague orders" designed to stop the plague. The short description on the website of obituaries of fellows of the Royal College of Physicians, refers to him as Cæsar a Dalmariis, M.D. Elizabeth's mother, the English wife of Cesare, was

Margery Perient (or Perin)

. Concerning Margery, there is a useful entry on the Tudor Women website. It starts: "There is some debate about Margery's parentage. The History of Parliament says she is the daughter of George Perient of Shropshire and Hertfordshire. The old edition of the Dictionary of National Biography lists her father as Martin Perient, treasurer to the army in Ireland, but the newer online Oxford DNB doesn't attempt to identify her father at all. Her surname is variously spelled Perient, Perin, and Peryn and her Christian name is sometimes listed as Mary or Margaret rather than Margery." I can add that the 1532 PCC will of George Perient, gentleman, names wife Annes, daughters Elizabeth and Katheryn, and son Harry. No Mary or Margery. On the other hand, searching for treasurers in Ireland there is a very obvious candidate, named

Martin Piry

(or Perry). He was sometimes referred to in the years until he died in 1544 as the under-treasurer of the mint, or the tresurer of the mines, and his job was supplying currency. It appears that after some years as a trusted advisor to Henry VIII's regime he spent some time in exile in Rouen after an accusation of debasing coins, where an agent reported back in 1542 on his whereabouts and asked about whether he should be considered pardoned or not. He later appears in Ireland, under the regime of Edward VI.

Dr Cesare was a naturalized Italian, second son to one

Peter (Pietro) Maria Adelmare

(or Peter Maria Dalmatius, or Dalmarius, or à Dalmariis, in various English language histories). He was a doctor of laws, particularly the civil laws it seems. He came from Treviso near Venice, and had been a citizen of Venice. (Some sources, including the royal college obit but going back to old 18th or 19th century texts, say Trevigno, which is a very different place. This presumably comes from a misunderstanding of the adjective for someone from Treviso, which was trevigniano or trevigniana.) His wife

Paola Cesarini

. Cesare was their second son. Their eldest son was named Claudius and he had a younger son named John Baptist, or at least this is how Lodge names them. (In Italian of course they would have been Claudio and Gianbattista.)

Going further back, I can mainly only find English sources, which in cases are clearly over-done. For example, one 1824 book about the Royal Hospital and Collegiate Church, where Sir Julius was a master, says that "Julius Caesar, LL. D. was appointed Master in 1596. He was son of Caesar Adelmar, Physician to Queen Mary and Queen Elizabeth lineally descended from Adelmar, Count of Genoa, and Admiral of France in the year 806, in the reign of Charles the Great. The mother of this Caesar Adelmar was daughter to the Duke of Cesarini, from whom he had the name of Caesar, which name Queen Mary I. of England ordered to be continued to his posterity ; and his father was Peter Maria Dalmatius, of the city of Trevizio, in ltaly, Doctor of Laws, sprung from those of his name living at Cividad del Friuli." Other books from the same period copy each other verbatim, and it seems that most information available on this subject has been copied from very few sources. I believe this type of thing needs to be taken with a grain of salt, talk of Dukes inspires caution, but Carolingian stories even more. (There apparently was a Barone Ademaro though, who really was created Conde di Genova by Charlesmagne.)

Clearly though, there is no reason to doubt that Dr Adelmare was not from a good family. Lodge, a more careful writer, says they were long seated in Treviso and were "in the rank of nobility, according to the usual meaning of that designation on the continent". I fear that one of the problems is that the family surname, which Cesare stopped using in England, might be irretrievably mutilated in many English accounts. Looking at the claim to ancient ancestry mentioned above, the Italian wiktionary tells us that Ademaro is an old name often confused with Audomaro, Adelmaro and Aldemaro, but these are not normally family names as far as I can see. Cesare himself seems to have written his name often with forms such as Dalmarius, implying the Italian would be Dalmario. Frances Elizabeth Cottrell-Dormer, a descendent, wrote an account which was reproduced in various 19th century books. While repeating the story about the count in Genoa, she says that the "most certain account of the family of Caesar Adelmare is at Rousham. It is a Latin MS. written by Nicholas Maurus, of Treviso, 1598". Importantly, this note helps us confirm the original types of spelling of the family name in Treviso. It also provides us with another slightly more believable story of the family's origins, involving Florence.



"The Adelmary, Adelmari, or Adimari, came from Florence, but in the wars of the Guelphs and Gibelines they, being of the Guelphic party, withdrew, in the reign of Frederic II., to Treviso, where they were settled about A.D. 1240, and remained some 300 years. Adelmarius, the son of John, is the first living there in 1270. From him descended

Mark

, who died in 1340; a statesman and Ambassador to the Emperor. His son,

Nicholas

, was a lawyer, and Ambassador to Louis the Bavarian, and afterwards to the Republic of Venice, from which he recovered property of Treviso usurped by Venice. He died 1346. His son,

Thadeus

, was a great physician and patriot, and was made first Physician to Pope Nicholas. He left all his fortune to the Hospital of St. Mary, at Treviso and for the education of poor youths in theology. The date of his will is 1454.

Another Thadeus

was legate from Treviso to the Emperor Maximilian, at Padua.

Peter Maria, son of

Bonfrank

, grandson of the second

Nicholas

, was many years Judge at Treviso, and also Ambassador to the Emperor Maximilian; he married

Paula

, daughter and heir of

John de Paulo Cesarino

, of the ducal family of Caesar. Their 2nd son, Caesar, having taken a degree in medicine, came to England, and was appointed Physician to Mary I., and afterwards to Elizabeth. This Queen having advised him to marry an Englishwoman, he married Margaret, daughter of Martin Perrin, Treasurer in Ireland.


Research confirms that Nicolò Mauro was a real writer in the 16th century, who published works about the Treviso nobility. He would have roughly been a contemporary of the emigrant Adelmari. That he wrote about the Adelmari of Treviso, equated them to the spelling Adimari, and considered them related to the well-known Adimari of Florence, can also be confirmed. Part of Mauro's account including some of the 1454 will is reproduced here. Pages 56 and 326 show a Nicholas Benedict Adelmare as the brother of the first Thadeus. Might this be the second Nicholas? (The two of them were granted notarial rights by emperor Sigismund, including the right to legitimate bastards.) Page 325 also mentions that the brother of the first Nicholas was named Augustus. Here is a webpage showing the monument to Thadeus of 1545. This website (in German) says the family did not come from Florence but from Cividale (today on the Slovenian border). The website cites a book Gisella Beinhoff,

Die Italiener am Hof Kaiser Sigismunds

. On Google Books snippets can be seen also showing that the Cesarini are mentioned, and examination of the book shows that it does mention both that the family of Thadeus was originally from Cividale, and also that the family had a long history of practising medicine, which continued until the much later Cesare in England. The Florentine family is discussed here. I have not found record of Bonfrank, but there was an unusual Italian name "Buonfrancesco". In any case it seems clear that this family were well-known as both doctors and lawyers in Padua, which was a University specilized in educating these for Venice.

The Italian biography of Cesare Adelmare, cited by Beinhoff, is also essential reading. Although not so focused on his ancestry it is one of the sources which says that he was "nativo di Trevigno, da famiglia di Cividale quivi emigrata". It quotes state records showing that the Spanish were writing back home about him, suspecting him of being an agent of the Pope, or the Duke of Urbino, and even of poisoning the queen. In 1566 he was arrested as a partisan of Margaret Douglas, Countess of Lennox. He died 1569, and was buried in St Helen's, Bishopsgate. He had bought a house there in 1559. It is interesting that Cesare replaced Edward Wooton as "censor" in 1555, because that doctor had spent time in Padua. So I wonder if he may have been a link that brought the Adelmare to England.

Putting aside the Florentine family then, and looking at the spelling Delmario, I also find records from the correct time and region of a "cividale" named Pietro Delmario. [1] Did he perhaps govern Kotor in Montenegro for the Venetians [2]? There are also earlier references (1434) to a man of this name who had been "rector" in Rethymno, another Venetian fortified port, but in Crete.

According to the old version of the Oxford biography, Paola Cesarini was daughter of

Giovanni (John) Cesarini

who was "probably of the same family as

Giuliano Cesarini, cardinal of St. Angelo

, and president of the council of Basle, 1431–8". If correct, and indeed this Giuliano apparently studied at Padua, the same University as the Adelmari, then this family had links to both the Sforza family and the papacy. Many of them were legally trained, just like many of the Adelmari. Giuliano must have known Thadeus Adelamare in any case, as they worked in the same papal and imperial circles, but this was several generations before Pietro and Paola. I also find reference to the fact that he was a friend of Alamanno Adimari, cardinal of Pisa, and his nephew Nicola Adimari, associated with studying law in Padova. This shows a link between the Florentine and Padovan Adimari, and specifically one with the name Nicola. But this Nicola apparently moved to Rimini?

While the old Oxford biography says Giovanni's middle name (probably indicating his father's name as per the Italian habits of this time) was Pietro (Peter), Lodge and Cottrell-Dormer say it was Paulo. I have found an Italian reference, in a book about the Sforzas, in approximately the right period to a Giovanni Cesarini, who was an "auditore della camera" and a "celebre giureconsulto". But he was dead in 1478, so perhaps too early?


The reference works confirm that Cesare's daughter Elizabeth married a Doctor of Laws known as John Hunt. Their marriage license was granted 12 February 1585/6, at which time he was a resident of St Bennet, Paul's Wharf. Books about the Adelmare or Caesar family refer to John Hunt, her huband, being a member of the "Doctors Commons", which must have been in an earlier phase of his career. Switching from the Doctors Commons to common law was apparently unusual, but his brother-in-law Sir Julius seems to have followed a similar path, although with more fame and success, eventually becoming an important politician during the period of King James I and his struggle for money with parliament. Possibly Hunt's career benefitted from that of his brother-in-law.

I notice

C 2/ChasI/A3/11 "Lady Caesar v Pytt"

Plaintiff: Lady Adelmare alias Lady Caesar. Defendant: Pytt and others. I am not sure if this has any relevance, but it would be in the period 1625 - 1660. I have a copy and this Lady Cesar is Jane, the widow of Sir Charles. She was suing a George Pitt esquire.

John Hunt's own will was a PCC will made 1630 and refers to him being of "Burston" which is an old spelling for Briston. It confirms that he is the John Hunt who married into the Caesar family. It shows him still granting the manor of Thurning to his wife. I notice one of his grandchildren had the unusual first name Cesar, which was common in the Adelmare family, and he also clearly mentions as supervisors of the will his sister's brother as Master of the Rolls (that is Sir Julius, although he is not named), and also

Sir Charles Cesar, knight

. (In fact this Charles, must be Elizabeth's nephew, son of Julius, who would later also be master of rolls.) His son and heir William Hunt, mentioned in some of the legal cases, had pre-deceased him, but sons survived. A daughter named Ann, married to John Tendringe, is debarred from any benefits for her great ingratitude and disobedience and manifold indignities, but her two sons are legatees and are to be in their grandmother Elizabeth's custody and they should study law. Ursula is not mentioned at all, but a special instruction is given against Elizabeth granting the manor of Thurning to "person or persons". (Although see above concerning Elizabeth's 1634 grant, acting as executrix.) Dr Hunt apparently did not get on with his two daughters.

It seems likely that this is Elizabeth's will, because John is occasionally described as being of Briston, and apparently lived at Briston Hall:

Hunt, Elizabeth, of Briston 1658 ANW, will register, 1653-1660, fo. 464, no. 477

. It is a short will and she says she had already given worldy goods to children and grandchildren "as it hath seemed best unto me" and therefore she says "I doe make no mencon thereof onely because there are divers p~sons wch stand indebted & doe owe unto me divers sumes of money which debts I cannot by any [act] executed in my lifetime dispose of". The only legatees she does mention then are the two Tendring grandchildren, William and John. A later legal case, C78/624 (1661-1663 in the 13th-15th years of Charles II), shows that Ann and her eldest son "John Hunt alias Tendring" did however eventually receive possession of the manors of Buston Hall or Burston Hall and Meliors, Norfolk.

The Venn database says of Hunt's university career that matriculated sizar from Trinity college, October 1566; was a scholar 1570; B.A. 1570/1; M.A. 1574; LL.D. 1581; Fellow 1572; admitted advocate, 26 Jan., 1582/3. His name appears as master of chancery in various cases of historical interest during the time we now associate with William Shakespere. His origins before studying are not clear, but Blomefield mentions a Hunt family of East Barsham who had in earlier generations had dealings with the old de Briston family of Briston Hall.