---
How to proceed ?
1 - Download it.
(See the two downloading url's on the right column of this page.)

2 - Unzip it.

3 - Run the file: gene1.exe to bring up the Ebook Home Page.

4 - Read: "How to use this E-Book"

5 - When reaching any protected page you will be asked to buy a password.
Follow the link that starts the billing procedure.
---
Marilyn Monroe
Buy this Photo Card
Muscle & Fitness
[MAGAZINE SUBSCRIPTION]
Men's Fitness
[MAGAZINE SUBSCRIPTION]

Men's Health
[MAGAZINE SUBSCRIPTION]
Flex
[MAGAZINE SUBSCRIPTION]
Bryan Kest
Power Yoga, Intensive Body Sculpting

Shape Fitness Music
Walk 2: '70s Hits


Specialty Stores
Big & Tall
Dress Shirt Store
Erotic DVDs
(Amazon.com)
Asian Erotic
Erotic Horror
Erotic Sci-Fi
Erotic Thrillers
Eurotica
Flashing
Kinky/Fetish
Lesbian
Massage(Sensual)
Massage(Therapy)
Naturism
Nubility

Penthouse 1
Playboy
Sex Instruction
Sexy Romance 1
Sexy Romance 2
Emmanuelle
Red Shoe Diaries
Russ Meyer
S.I. Swimsuit
Betty Page
Darian Caine
Julie Strain
Kei Mizutani
Shannon Tweed

Photographing Women Naturally
by Gene Constant

Ebook screen prints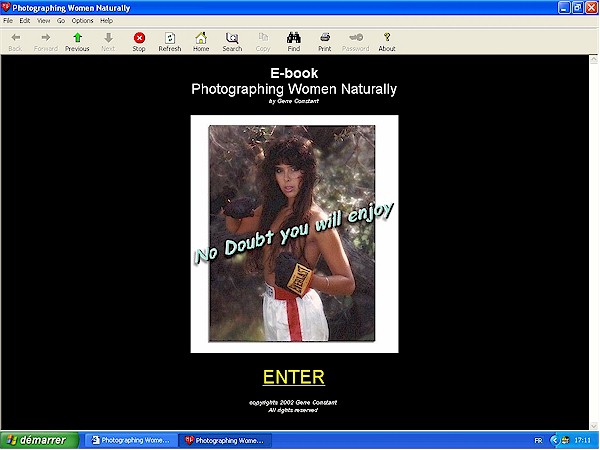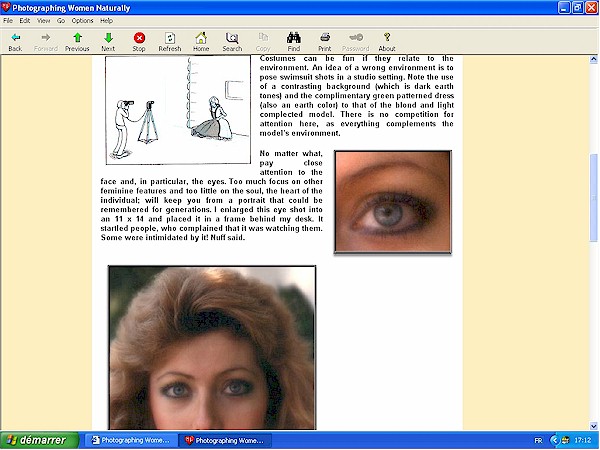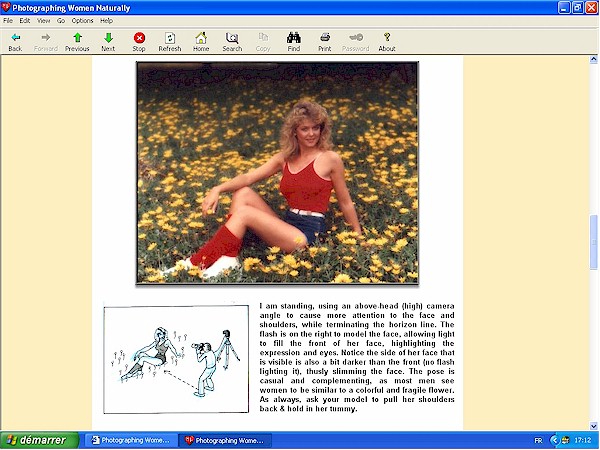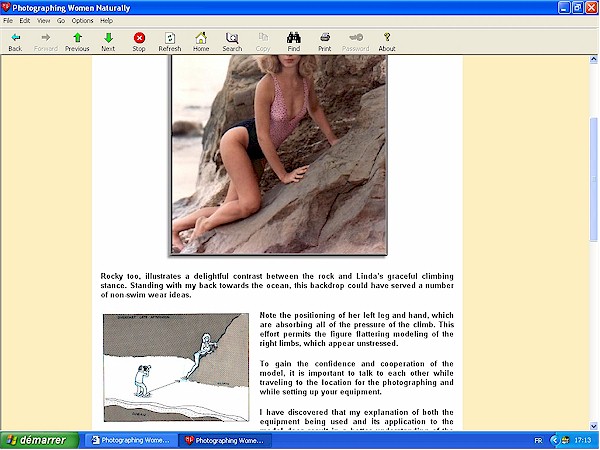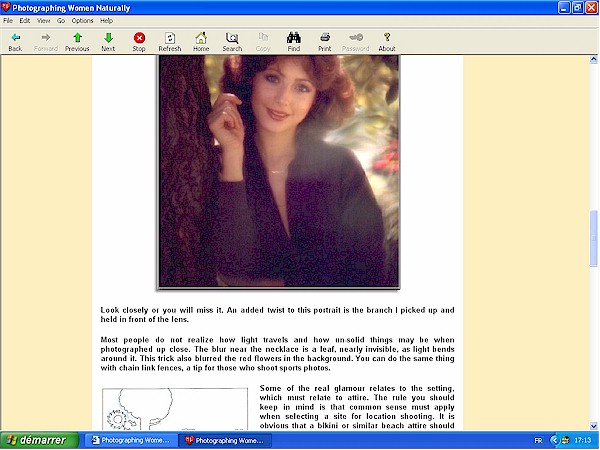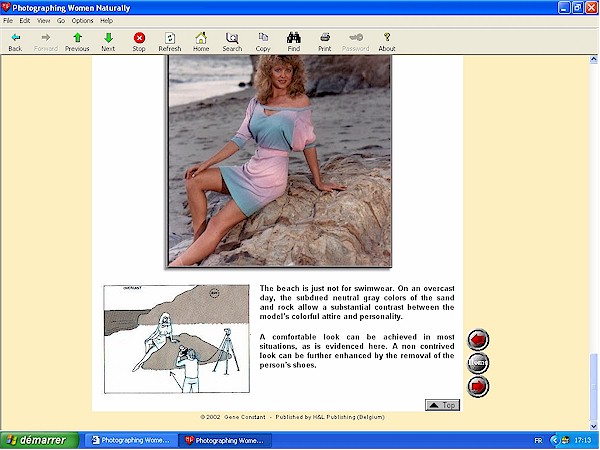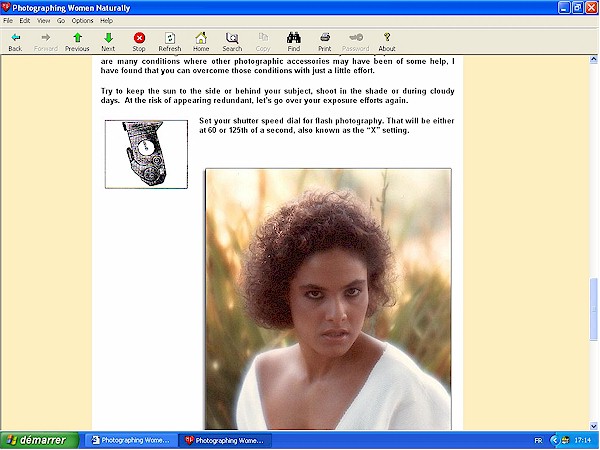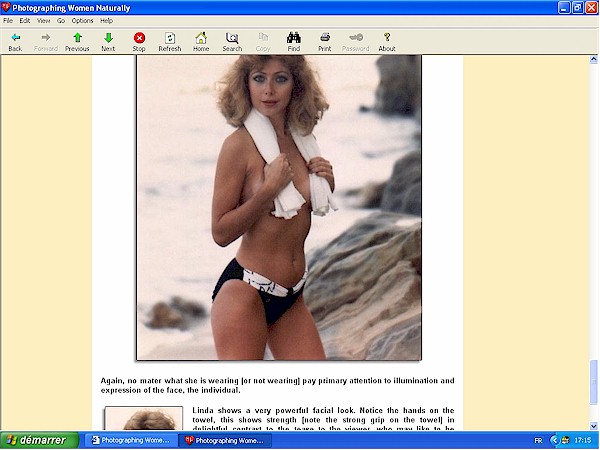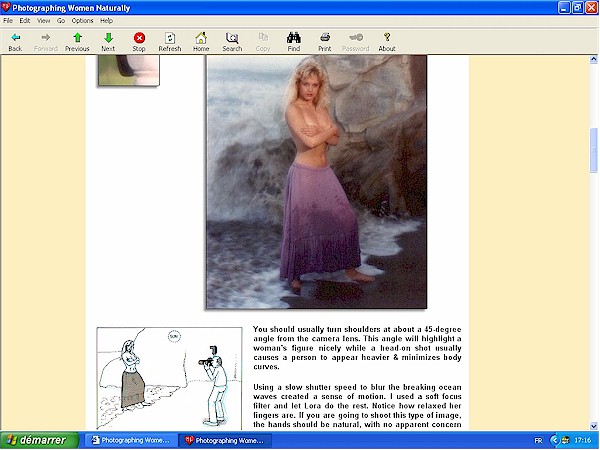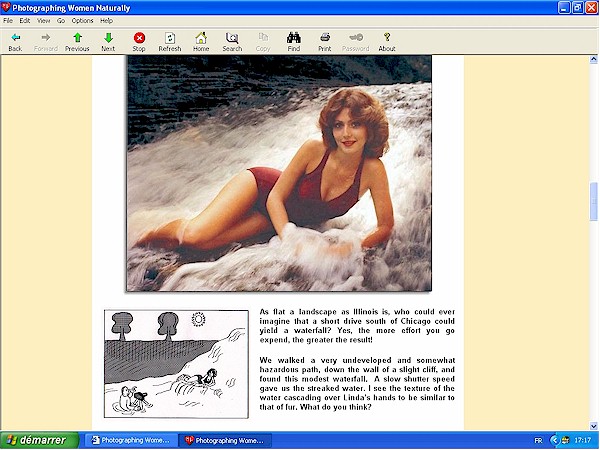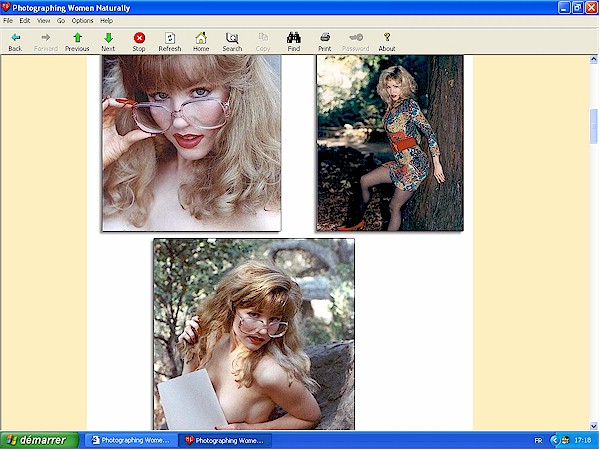 Photography has been my life and has provided a living and a feeling of fulfillment since my first introduction to this exciting medium while in the U.S. Navy.
My first camera was a Kodak instamatic camera which used 126 type cartridge film and cost me a total of five dollars. I purchased it from a fellow shipmate.
At the beginning, the idea of taking pictures seemed like a fun thing to do. I had no intentions of being good at taking photographs; my sole intent was to record events that were important to me. However, like so many others, the more I played around with the camera's results, the more I became infected with the disease known as "The Photo Bug."
That dreaded disease goes right to your heart and pocket. Without any warning, you suddenly find yourself emotionally involved with the various images that were captured by your camera and caged on paper or transparencies. Like a junkie, you are always digging into your wallet, hoping to find an extra buck for film, processing or the latest gadget that will complement your camera. Just one more fix is all you will ever need – for this week anyway.
For all of your efforts, I know that many of you feel as I have felt. You take great pains to obtain all of the "right" equipment and buy all of the latest "How To" books, only to discover that those books are poor and oftentimes clouded mirrors of Playboy or Penthouse.
Why do those authors try to impress you with images that you are not interested in shooting? Why do those authors show you examples of photography that you do not care to practice, either for moral or legal reasons? Why won't these authors attempt to show you photography that you can APPLY and USE for your own personal or professional purposes?
I am as fed-up as many of you have told me you are. After going to many state conventions and buying all of the known photography books I have determined that our needs will stay unfulfilled until someone acts.
The purpose of this book is to give the new or amateur photographer a series of examples of photography that help you to properly photograph your sister, daughter, wife or model.
Yes, adult women do want to appear attractive. And NO, these ladies do not wish to appear as objects of ridicule. It is my intent to also elevate your women's portraiture to levels that you have yet to attempt.
As you review the composition and equipment applications of the following illustrations, please be sensitive to the examples of the individuals. Please continue to remind yourself that these ladies are people. If your photographic efforts have left the subject less than ecstatic, then the shooter has failed in the most important task of all, that of capturing the individual.
To focus on the many moods, feelings, and beauty of your subject; that is your highest priority. The minor tasks of having the proper film, which lens to use, who should process your exposures, do you need a flash, what about ambient light? Those questions are the easiest to answer.
When reviewing these lessons and applying what you have seen and learned, always keep in mind the primary question to be answered prior to tripping the camera shutter: Does the Pose Complement The Person Posing?
If the answer is yes, then let your camera take the next step. What many people do not realize is that equipment brand is not too important. What you see before you shoot is more important than what you shoot it with.
While I will explain equipment uses and occasionally mention a brand name, please remember that I have not struck any deals with any equipment vendor and do this book only to pass on to you my labors of love.
Photography has always been my life and shall remain so, as this disease is incurable, thank goodness. .
This Ebook will accomplish several things:

1. You will see numerous outdoor settings.

The great outdoors is a comfortable place to be, nearly eliminating performance anxiety. It is comfortable to be outside.

2. You will learn that it does not take a lot of equipment to be a good photographer.

So many other how-to books are written to professionals or by those who are being paid by equipment manufacturers. This book keeps it simple. I am not here to impress you with what I know or what I own.

3. You will learn how to pose your woman.

Various pieces of the composition puzzle are explained. Many have said that people are born (or not) with an "eye" for art. This book gives you an eye.

4. You will make a friend for life.

With a little effort and the expenditure of some film, you will give back to that special lady a gift that will last forever. For most women, money has not purchased the level of happiness you are providing in the comfort and glamour of the great out-of-doors.
********
Gene is certified as a professional photographer by the Professional Photographers of America [PP of A], has exhibited in State & National photography competitions, has had portraits published in the PP of A magazine, The Rangefinder magazine and Minolta's Contact Sheet magazine; has had articles published in The Rangefinder magazine; and has owned a photo studio.


Photogene Mag
(Downloadable)
Forbiden pictures of the seventies
FREE EBOOK
For 6.95 US$
---
Note that the billing procedure starts from inside the Ebook.
So, if you want to buy this Ebook (6.95 US$) you have first to download it.
---
---
Photography
Resources
Cameras
Darkroom
Lighting
Erotic Photos
Fashion Photos
How-to Books
Photojournalism
Portraits
Professional
Sports Photos
Fashion Models
Designers

Modern Amazons
by Bill Dobbins
French Ebook
Beauté Africaines
(African Beauties)

By Casimir Zagourski
---
Aperture
[MAGAZINE SUBSCRIPTION]

American Photo
[MAGAZINE SUBSCRIPTION]
Photographic
[MAGAZINE SUBSCRIPTION]

Popular Photography
[MAGAZINE SUBSCRIPTION]

---
Stuff
[MAGAZINE SUBSCRIPTION]


Penthouse
[MAGAZINE SUBSCRIPTION]


Play Boy
[MAGAZINE SUBSCRIPTION]
Bryan Kest
Power Yoga for Weight Loss



Shape Fitness Music - Walk 1: '60s Hits

Adult DVDs
21 & Older Only

Adult Top Ten
Adult Hot: A-G
Adult Hot: H-Z
Anime X
Asian X
Big Breasts
Black Women
Brazil 1
Classic X
Couples
Derrieres
Erotic Massage
European
Fetish
GirlGirl
Japan X
Kama Sutra X
Latinas 1
Nice Rack
Oral
Sex Instruction 1
Sex Instruction 2
Tantric Sex
Women's Choice
Female Ejaculation
Tatooed & Pierced
Boss Bitches
Horse Cocks
Women seeking Women
Transsexuals
Anal Addicts
Afrocentrix
Horny Housewives
Sex & Pregnant
The Landlady
Muscular Women
Sexy Nurses
All Natural
Natural & 18
Natural Breasts
Natural(Unshaven)
Nudist X
Outdoor Sex
Adam & Eve
Andrew Blake 1
Andrew Blake 2
Candida Royalle
Digital Playground
New Machine
NinaHartleyGuides
Penthouse X
Pleasure
Private Video 1
Private Video 2
VCA
Vivid / Wave 1
Virtual Sex
Alicia Rio
Ashlyn Gere
Asia Carrera
Christy Canyon
Cicciolina
Dahlia Grey
Ginger Lynn
Hyapatia Lee
Janine Jenna
Jill Kelly
Juli Ashton
Kobe Tai
Laure Sinclair
Marilyn Chambers
Nina Hartley
Racquel Darrian
Rocki Roads
Sarah Jane
Tera Patrick
Teri Weigel